Majority disapprove of Trump after 8 days in office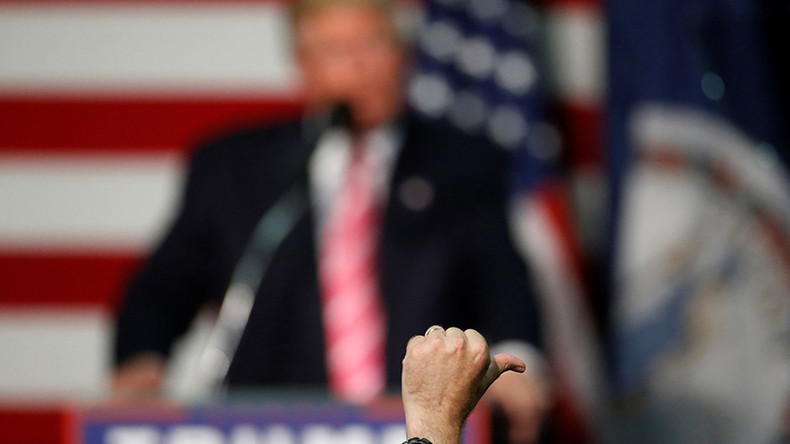 It took years for Presidents Obama, Bush and Clinton to reach majority disapproval ratings in Gallup's daily tracker poll, but Donald Trump has managed the feat in just eight days; with 51 percent of Americans saying they don't approve of their new president.
Compared to 71 days passing under Bill Clinton, 150 days for George W. Bush and 117 for Barack Obama, the time it took for more than half of Americans to agree that Trump was not doing a good job as president could be considered a record.
On Saturday, Gallup's daily presidential job approval poll showed 42 percent approving of Trump's actions and 51 percent disapproving. Trump has wasted no time in his first eight days, signing executive orders on healthcare, military funding, a border wall and refugees. That, and the onslaught of protests against Trump across the US may have been too much too soon for the American people, the Gallup poll suggests.
The average disapproval rating in his first seven days was 48 percent, Gallup reported. It is unclear what tipped the scales, but on Friday night, Trump signed an executive order suspending the Syrian refugee resettlement program for 120 days as well as all immigration from seven principally Muslim countries for 90 days.
Real Clear Politics puts Trump's approval at 43.7 percent, the average of six major polls taken between January 20 and 29.
Last Thursday, Trump only received approval from 36 percent of those polled by Quinnipiac University. While that poll showed 53 percent of Americans were optimistic about the next four years with Trump, just 44 percent believed that he will help the economy. Fifty percent said Trump would be worse than Obama in office, and only 37 percent said he would do a better job.
When it comes to Republicans, however, there is overwhelming trust in Trump, especially versus the media, according to a recent Huffington Post and YouGov survey. Eighty-one percent said they trusted his administration "a great deal" or "a fair amount," while just 5 percent said the same about the media.
You can share this story on social media: