Defense Secretary Mattis orders reviews of F-35 and Air Force One to cut costs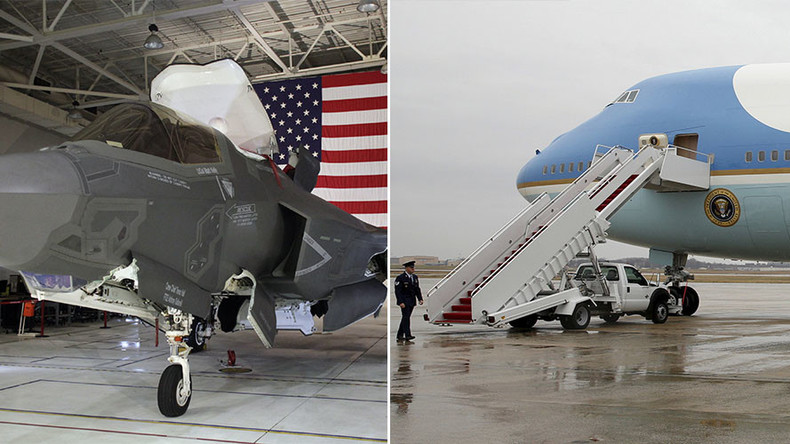 In one of his first actions, Secretary of Defense James Mattis ordered reviews for the Air Force One and F-35 Joint Strike Fighter programs, two projects that President Donald Trump has criticized as wasteful government spending.
On Thursday, Mattis sent two memorandums for Deputy Defense Secretary Robert Work to review the F-35 Joint Strike Fighter program to "determine opportunities to significantly reduce the cost of the F-35 program while meeting requirements."
Mattis also directed Work to compare the capabilities and costs of F-35 to the F/A-18E/F Super Hornet, to determine what improvements can be made "to provide a competitive, cost effective, fighter aircraft alternative."
After Mattis was sworn in by Trump, Pentagon spokesman Captain Jeff Davis released a statement to the DOD website that explained the purpose of the separate reviews was to "inform programmatic and budgetary decisions," and provide the president with recommendations on critical military capabilities.
"This action is also consistent with the president's guidance to provide the strongest and most efficient military possible for our nation's defense," Davis wrote in the statement, "and it aligns with the secretary's priority to increase military readiness while gaining full value from every taxpayer dollar spent on defense."
READ MORE: US F-35 fighter jets arrive at military base in Japan in 1st overseas deployment

The memos did not specify if the review would reduce the number of aircraft that were planned.
In a separate memo from Mattis, Work was ordered to review the Presidential Aircraft Recapitalization (PAR), otherwise known as the Air Force One program, to "substantially reduce the program's costs while delivering needed capabilities."
Mattis said the review of the PAR program should "identify specific areas where costs can be lowered," including "autonomous operations, aircraft power generation, environmental conditioning [cooling], survivability, and military/civilian communication capabilities."
Before taking office, Trump criticized the budgets of both the F-35 Joint Strike Fighter program and PAR program, which he promised to reduce.
The government contracts to build two new Air Force One planes were expected to cost $4 billion by 2024, while the F-35 Joint Strike Fighter program has been criticized as one of the most expensive weapon systems ever created, with an estimated cost of $1 trillion for 2,457 aircraft by 2038, according to the Government Accountability Office.
Following a tweet that Trump posted calling costs for the Air Force One planes "out of control," Boeing CEO Dennis Muilenburg met with Trump and promised he would build the planes for less.
Boeing is building a brand new 747 Air Force One for future presidents, but costs are out of control, more than $4 billion. Cancel order!

— Donald J. Trump (@realDonaldTrump) December 6, 2016
Trump also tweeted about the contracts that Lockheed had with the government over the construction of F-35, saying, "Billions of dollars can and will be saved on military."
The F-35 program and cost is out of control. Billions of dollars can and will be saved on military (and other) purchases after January 20th.

— Donald J. Trump (@realDonaldTrump) December 12, 2016
After their meeting at Trump Tower in New York, Lockheed Martin CEO Marillyn Hewson said that she would not only work to make the fighter jets at the "lowest possible price," he would also plans to add 1,800 jobs at its plant in Fort Worth, Texas, where the F-35s are built.
You can share this story on social media: