Oorah-la-la: Female Marines to share field tents with men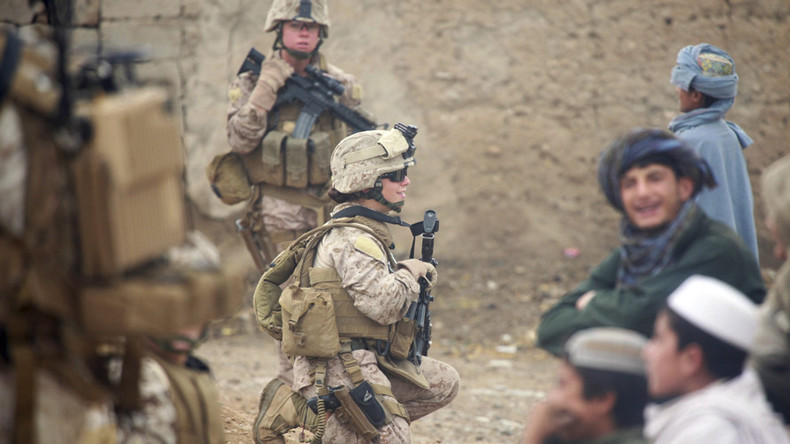 The US Marine Corps has decided that female Marines will share sleeping quarters with their male colleagues both on the battlefield and in combat training exercises for the sake of unit cohesion.
Marine living spaces will be co-ed in the field and in combat readiness drills in order to maintain a unit's strategic integrity, Major Charles Anklam III, an executive officer for 1st Battalion, 8th Marines at Camp Lejeune, North Carolina, told AP on Thursday.
"We're not changing our tactical posture or changing how we operate to accommodate the inclusion of female Marines," Anklam said.
Marines of different sexes have private rooms and bathrooms in living quarters away from the battlefield, but battalion togetherness in the field will demand sharing living spaces, Anklam said, adding that female Marines have previously shared living spaces with male counterparts in conflict zones.
The first three enlisted female Marines to become part of a previously all-male combat unit joined Anklam's battalion on January 5.
"Our female Marines will find themselves side-by-side their male counterparts in a fighting hole or in their living conditions for the execution of field or deployed duties," Anklam told the Marine Corps Times last week.
The battalion's leaders had many discussions with commissioned and noncommissioned officers about the three new female members prior to their arrival, Lieutenant-Colonel Reginald McClam, a battalion commander, told Marine Corps Times, adding that the battalion has had no problems with the integration so far.
"This is what I told the staff," McClam said. "I joined the Marine Corps to lead Marines and sailors. I didn't take an oath of office that said I was going to lead male Marines or female Marines or male sailors or female sailors. I said I would lead Marines."
An Obama administration directive from December 2015 allowed female service members to pursue any position in the military.
Opponents of the policy have argued that mixing female and male service members in living quarters would lead to "indiscipline."
"Policy makers should be held accountable for creating conditions that will encourage indiscipline rather than discipline," said Elaine Donnelly of the advocacy group Center for Military Readiness, according to AP.
You can share this story on social media: