White House mulls women in military draft as Pentagon opens combat roles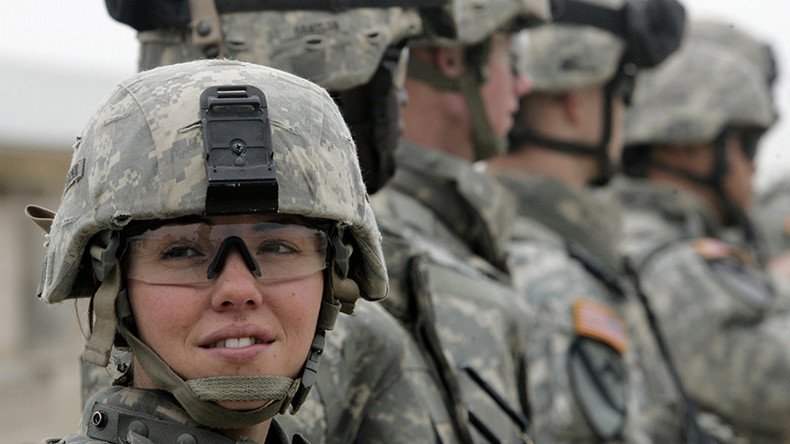 The White House is mulling a change to the military draft that would see women required to register. The proposal has come from the Pentagon, as the Defense Department opens up over 200,000 military jobs for women, including all combat roles.
"We're going to work with Congress to look at that analysis, to review it, to get others' opinions and determine if additional reforms or changes are necessary in light of this decision," White House spokesman Josh Earnest said.
The Pentagon has prepared an analysis of how, if in any way, the US Military Selective Service Act would benefit from the change. At the same time, a congressional aide said lawmakers have not yet received the Pentagon's analysis, the Washington Post reported.
According to Earnest, President Barack Obama hasn't yet weighed in on whether women should continue to be excluded from the draft, Earnest added.
"It's not our call and it's not Defense's call, it will be the White House and Congress that will make the decision how they want to proceed," Dick Flahavan, a spokesman for the Selective Service System, said according to the Post.
The Military Selective Service Act requires men to register 30 days after their 18th birthday and remain with the Selective Service System until their 26th birthday. They could be called in for compulsory military service in a time of war. In case of no shows, a $250,000 fine and denial of federal jobs or government benefits could be imposed.
The White House statement comes a day after the Pentagon announced its plans to open up 220,000 military jobs for women, including all combat positions. Until the historic change, about 10 percent of jobs in the military were closed to females.
"There will be no exceptions," Defense Secretary Ash Carter said. "This means that, as long as they qualify and meet the standards, women will now be able to contribute to our mission in ways they could not before."
President Obama praised the decision, saying it would make the US army "even stronger."
"Our armed forces will draw on an even wider pool of talent," Obama said. "Women who can meet the high standards required will have new opportunities to serve."
Under a 1981 US Supreme Court ruling, excluding women from draft registration was deemed constitutional since they were also excluded from combat roles.
The development has revived debates on whether women should be included in the draft.
"The draft is another gender-biased policy rooted in another era. We welcome an open debate around the inclusion of women and even whether the law itself is an anachronism whose time has come," Judy Patterson, chief executive officer of the Service Women's Action Network, said in a statement, as cited by Stars and Stripes. The nonprofit group has welcomed the move.
You can share this story on social media: