'Outrageous': Journalist Seymour Hersh blasts media over 'Russian hacking' stories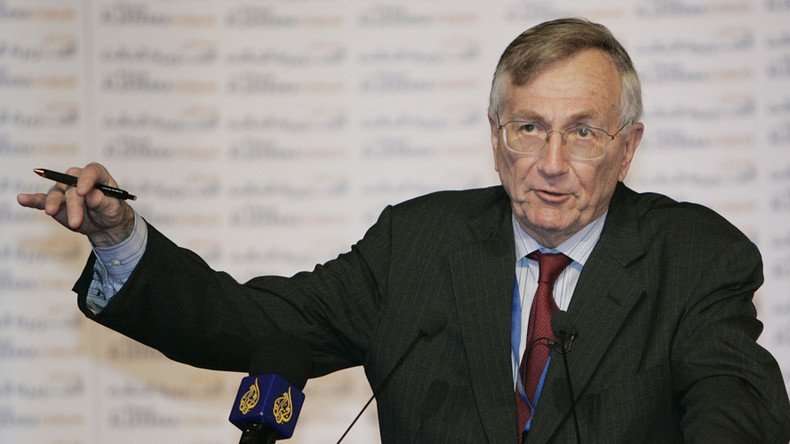 Investigative journalist Seymour Hersh called the way US media have reported on the allegations that Russia somehow interfered in the 2016 US elections "outrageous." The Pulitzer Prize-winning reporter said the "hectoring" press overlooked the real story.
"The way they behaved on the Russia stuff was outrageous," Hersh told The Intercept in an interview for Jeremy Scahill's inaugural podcast. "They were hectoring. They didn't do reporting."
Hersh, 79, was commenting on the mainstream media coverage of the accusations that the Russian government was behind the WikiLeaks' publication of emails and other documents from the Democratic National Committee and Hillary Clinton's campaign chair John Podesta. Clinton has blamed Russian president Vladimir Putin personally for her loss in the November 8 election to Donald Trump.
In early January, Director of National Intelligence James Clapper released a 25-page report into alleged Russian meddling. It offered no evidence, instead repeating previously made allegations and devoting an inordinate amount of space to RT, relying on materials from 2012.
"It's high camp stuff," Hersh said. "What does an assessment mean? It's not a national intelligence estimate. If you had a real estimate, you would have five or six dissents. One time they said 17 agencies all agreed. Oh really? The Coast Guard and the Air Force ‒ they all agreed on it? And it was outrageous and nobody did that story. An assessment is simply an opinion. If they had a fact, they'd give it to you. An assessment is just that. It's a belief. And they've done it many times."
Had he been covering the story, Hersh said: "I would have made [CIA Director John] Brennan into a buffoon. A yapping buffoon in the last few days. Instead, everything is reported seriously."
Hersh first gained fame by breaking the story about the 1968 massacre of Vietnamese civilians by US troops in the village of My Lai. He also exposed the torture of Iraqi prisoners by CIA and US contractors at the Abu Ghraib prison in Iraq.
While harshly critical of the way the media covered the "Russian hacking" allegations, Hersh defended the profession from what he described as the Trump administration's attacks "straight out of national socialism."
"The truth is, the First Amendment is an amazing thing and if you start trampling it the way they ‒ I hope they don't do it that way ‒ this would be really counterproductive. He'll be in trouble," Hersh told The Intercept.
You can share this story on social media: