Madeleine Albright 'ready to become Muslim' to protest Trump's immigration policy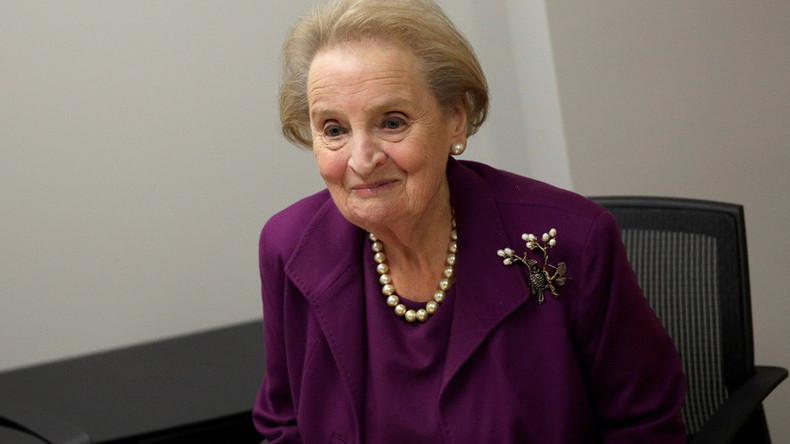 Former US Secretary of State Madeleine Albright has expressed her readiness to "register as Muslim" in solidarity, responding to reports that President Donald Trump plans to legally force all America's Muslims to register their religious identity.
"I was raised Catholic, became Episcopalian and found out later my family was Jewish. I stand ready to register as Muslim in #solidarity," 79-year-old Albright tweeted on Wednesday. Eager to express her thoughts further, she also wrote that "America must remain open to people of all faiths and backgrounds."
Having forged an exemplary career in the US government as a politician and diplomat, Albright herself is an immigrant, born Marie Jana Korbelová in the Czech Republic, which her Twitter account proudly declares.
Albright's words come amid reports that Trump is about to order mandatory registry for Muslims. In a November 2016 interview with Reuters, Trump's immigration adviser Kris Kobach said the president's team was mulling reinstating the National Security Entry-Exit Registration System (NSEERS). The 9/11 era system subjected males aged 16 and older from 25 Muslim-majority countries to additional checks before entering the US, as well as being monitored while in the country.
It also required Muslim men already living in the US to register with immigration. Trump commented on the potential of reviving the system later the same month, saying he would "certainly implement that — absolutely" and that Muslims "have to be" registered, but had not mentioned it since. And while the prospect of this system is still dim, recent steps by the newly-inaugurated president show the administration's stance on immigration is becoming harsher.
According to a document reportedly seen by Reuters, as part of his general directive on immigration Trump plans to temporarily 30-day ban on most refugees and a suspension of US visas foreign nationals from seven predominantly-Muslim countries – Syria, Iran, Iraq, Libya, Somalia, Sudan and Yemen – as they may have links with terrorism.
Trump's administration is to use the temporary halt to work out a system, which will ensure US visas are not issued to people that pose a national security threat, according to the draft. Trump also said he will keep his campaign promise and build a wall on the border with Mexico, from where illegal immigrants, from both Mexico itself and across the ocean, come into the US.
These initiatives were voiced by Trump back on his campaign trail, when he argued that the measures would help shield Americans from jihadist attacks.
When asked in his latest interview whether the executive action to suspend immigration to the country can be viewed as a Muslim ban, Trump abstained from criticism against the religious community, stating that the ban is aimed at countries that breed terrorism.
"It's not the Muslim ban," the president told ABC in an interview on Wednesday.
"But it's countries that have tremendous terror. And it's countries that people are going to come in and cause us tremendous problems. Our country has enough problems without allowing people to come in who, in many cases or in some cases, are looking to do tremendous destruction.
READ MORE: Trump says he'll order 'safe zones' for Syria, regrets not 'taking' oil out of Iraq
"[…] I don't want people to chop off the citizens or anybody's heads in the Middle East. OK? Because they're Christian or Muslim or anything else," Trump stated.
However, when asked if he's concerned that his refugee and Muslim policy may cause even more anger among Muslims, he said it's unlikely the situation could get any worse than it already is.
"There's plenty of anger right now. How can you have more?
"[…] The world is a mess. The world is as angry as it gets. What? You think this is going to cause a little more anger? The world is an angry place. All of this has happened. We went into Iraq. We shouldn't have gone into Iraq. We shouldn't have gotten out the way we got out.
"Take a look at what's happening with Aleppo [Syria]. Take a look what's happening in Mosul [Iraq]. Take a look what's going on in the Middle East. And people are fleeing and they're going into Europe and all over the place. The world is a total mess," Trump said.
You can share this story on social media: