'Holy law book': Father & son facing rape charges use Bible in defense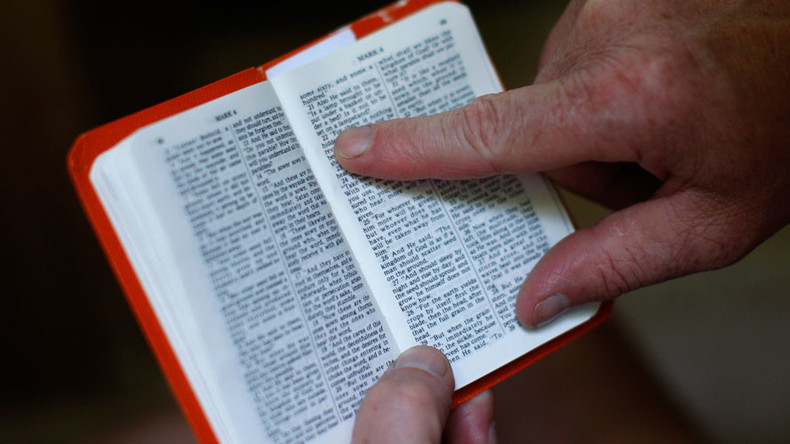 An Ohio father and son facing multiple charges of rape, endangering children and kidnapping have told a court they'll use the bible to defend their case as it's "the only law book that truly matters."
Timothy and Esten Ciboro, who are representing themselves, explained to the judge that they intend to "use God's holy word to ask questions, questions that we believe are absolutely vital to our case," according to the Toledo Blade.
"There's a great deal of strategy in Scripture and I use those strategies in everything I do," Esten Ciboro, 28, told the judge, adding that "it's a vital part of everything I do."
While the court in Toledo, Ohio, accepted the pair may reference the Bible in their defense, the judge refused the use of it for questioning witnesses as it "is not a law book in a court of law."
The accused have repeatedly argued against having a lawyer represent them, instead telling the court in November that "Professionals built the Titanic. Amateurs built the ark."
It's alleged that the father and son chained Timothy's 13-year-old stepdaughter by the ankle in the basement of their home, and sexually assaulted her on multiple occasions between 2012 and 2015. Timothy is also facing additional charges of sexually assaulting a younger sibling of the teen.
The court heard how a bucket of ammonia was found by police, which the teenager said she had to use as a toilet, while another bucket was used as a seat.
"Her prison was both physical and mental," said Assistant County Prosecutor Jennifer Reed.
Addressing the court on Monday, the pair drew parallels with the charges being brought against them and a number of Bible stories and how "the truth needs to come out."
"The truth needs to come out, and we need you to know the facts. Are they the facts of what they're saying happened or are they the truth? We want the truth to come out," Timothy Ciboro said in his opening statement to the jury on Monday.
"A long time ago, a man was brought before a judge, and the judge asked what he had done and the people that brought him said to the judge, if he wasn't guilty we wouldn't have brought him before you," Esten said. "The judge investigated the matter and he found no fault with him."
READ MORE: Fortune teller ordered to pay nearly $1MN to client she forced into sex trade
The duo were indicted in May 2016 after the 13-year-old girl escaped the basement where she had allegedly been held captive at one stage for a period of 12 months. She then alerted police. Charges of rape were then brought in September after accusations of sexual assault emerged.
Speaking on Tuesday, the teenager told the court that she thought the punishments were "Esten's idea… he came up with lots of the harsh punishments."
The trial continues.
You can share this story on social media: