One dead, several injured in US shopping mall shooting – police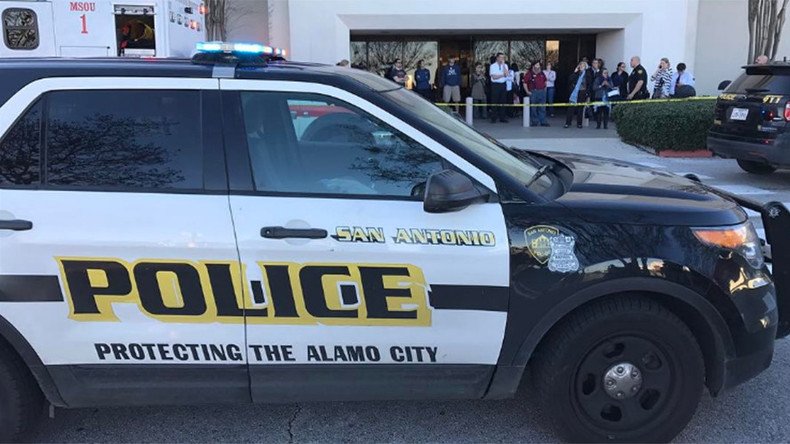 One person has been killed and several others injured during a robbery at a shopping mall in the US city of San Antonio, local police say. Authorities confirmed there were two shooters, and both are now in custody.
The shooting was a robbery which has gone "really really bad," San Antonio police chief William McManus told reporters. Two suspects robbed a jewelry store at the Rolling Oaks Mall, and while escaping encountered "two citizens who tried to intervene."
One of the them was shot and killed by one of the suspects, while the other bystander, carrying a licensed concealed weapon, shot one of the suspects.
According to the latest police statement, posted on Facebook, four people, including one of the suspects, have been transported to the Brooke Army Medical Center. The suspect is in a critical condition. Two victims suffered non-life threatening gunshot wounds and another was hospitalized because of "chest pains."
The second suspect, described by authorities as a "Hispanic male wearing a hoodie," fled the mall but was later caught, according to police.
"Today's deadly shooting at Rolling Oaks Mall is a tragedy for everyone involved and all of us affected," Taylor said earlier in a Facebook statement.
"It's is absolutely senseless. This is the second time that a 'Good Samaritan' was killed trying to intervene in a crime to help the victim. It's absolutely senseless," McManus said.
READ MORE: Brawls & fatal shootings mark 'Black Friday' across US (VIDEO)

The San Antonio Police chief was referring to an incident during 'Black Friday' at a local WalMart. On November 25, a man tried to stop a reported domestic abuse scene, and was shot and killed by the man who was said to have been punching a woman.
A woman at the scene was also hit by a stray bullet, and another by shrapnel during the incident.
You can share this story on social media: