Millions injected to help Democratic Party 'reconnect with voters' after 2016 loss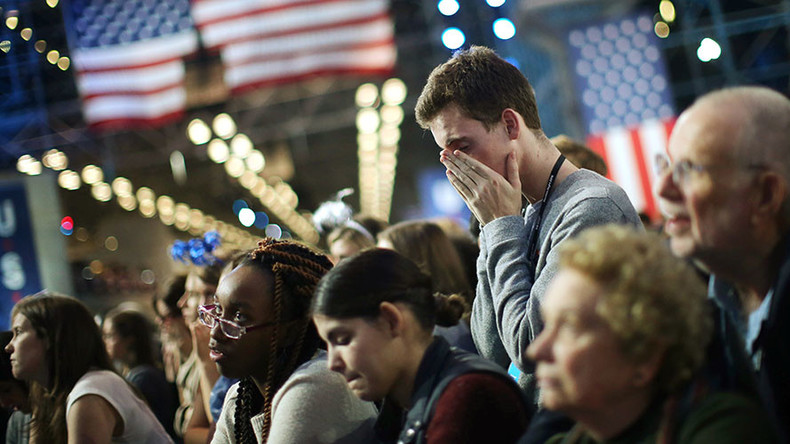 Democratic think tanks are throwing their weight ‒ and money ‒ at efforts to reclaim Rust Belt voters who deserted the party in 2016. The centrist Third Way will spend $20 million to study the presidential election and offer recommendations.
The think tank's "New Blue" project will "take on Trumpism by helping Democrats reconnect with voters who have abandoned the party," Third Way said in a statement.
It will "provide a new path out of the wilderness for Democrats" because the party is in its "worse [sic] electoral shape since Reconstruction… Only a major strategic rethink by Democrats can truly fight the danger of Trumpism in the long-term."
The $20 million project will focus on developing "a modern economic narrative, economic agenda, and electoral theory for achieving progressive majorities up and down the ballot."
To that end, a team will travel to former "blue wall" states like Pennsylvania, Wisconsin and Michigan, which all flipped during the 2016 election, to discover why the change occurred. They will also specifically focus on 12 districts in which Democrats won their House races, but where voters also opted for Republican Donald Trump.
"We want to study how did they win, and how can you scale it up," Third Way President Jonathan Cowan, a former White House aide under Bill Clinton, told Politico. "The task is now how do you restore Democrats as a national party that can win everywhere."
Third Way will also work with governors to develop and test ways to implement the think tank's ideas of how to create a progressive economic agenda that doesn't ignore blue-collar workers.
The think tank has fewer and fewer Democratic governors and lawmakers to work with. Since President Barack Obama was sworn-in, the party has lost 20 percent of the Senate seats, a quarter of the House seats, nearly half of the governorships and more than half of the state legislatures they controlled in 2009. There are only six states where the Democrats hold both the governorship and both chambers of the state legislature; the Republicans have 25 such states.
"The Heritage Foundation did a whole bunch of work long before Ronald Reagan was the nominee," Cowan said. "The next three years are about shaping that conversation and context and narrative for whoever are going to be the people who can test the presidency."
While Third Way may want to be the Democrats' version of the Heritage Foundation, several left-leaning think tanks ‒ all headed by political operative David Brock ‒ seek to be the left's answer to the billionaire Koch brothers.
During the inauguration, Brock will bring together more than 120 top Democratic donors for "Democracy Matters 17," three days of closed-door meetings in Miami, Florida, he told Buzzfeed News. The retreat is set to be the first in a series of semi-annual meetings designed to create a donor network dedicated to political causes beyond Brock's own groups.
"We really aspire to be like the Kochs," Brock said.
The meeting will feature speakers focused on ways for Democrats to regain power and oppose Trump, including Clinton pollster John Anzalone, Chicago Mayor Rahm Emanuel, veteran strategist Ron Klain, former US Attorney General Eric Holder and three current state attorneys general. Their topics run from "tactics to win" to Trump's first 100 days in office, as well as redistricting, building up the party at the state level and holding Trump accountable to the Supreme Court.
With the leadership of the Democratic National Committee up for grabs, Brock will also host an open forum for the five current DNC chair candidates.
You can share this story on social media: