Trump: US may lift Russian sanctions in exchange for nuclear reduction deal – Times, Bild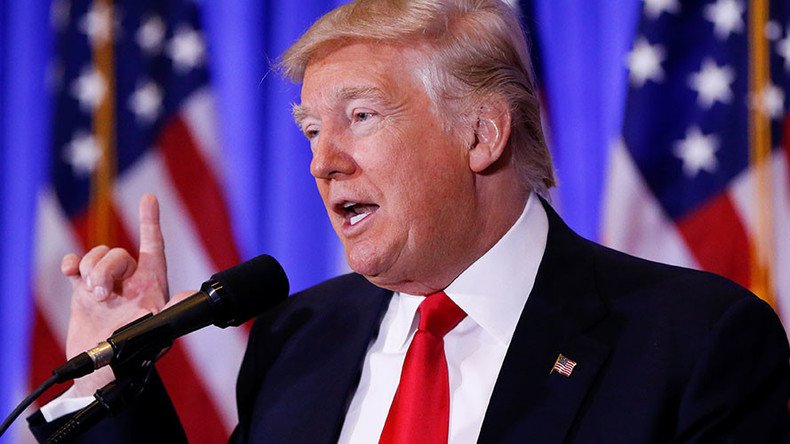 US President-elect Donald Trump has hinted that the US could lift its sanctions against Russia, called Merkel's migrant policy "a catastrophic mistake" and branded NATO "obsolete" in a new interview for The Times and Bild.
The interview was given in the President-elect's office in Trump Tower, just days before his inauguration.
Trump was quite straightforward in speaking out in favor of some common ground with Moscow.
"They have sanctions on Russia — let's see if we can make some good deals with Russia. For one thing, I think nuclear weapons should be way down and reduced very substantially," Trump said to the two media outlets.
At the same time, sanctions aren't affecting Russia well, [and] "something can happen that a lot of people are going to benefit," he added.
Moving on to other topical issues, Trump slammed Angela Merkel's migrant policy as "a catastrophic mistake," saying that Germany shouldn't have taken "all these illegals."
"Nobody even knows where they come from," Trump added.
Trump wasn't optimistic about the fate of the EU, either, saying that there is basically one country that benefits from staying in the bloc.
"You look at the European Union and it's Germany. Basically a vehicle for Germany. That's why I thought the UK was so smart in getting out."
Trump thinks it was the refugee influx that was "the final straw that broke the camel's back" for the EU.
"I believe others will leave. I do think keeping it together is not going to be as easy as a lot of people think. And I think that if refugees keep pouring into different parts of Europe, it's going to be very hard to keep it together because people are angry about it," he said.
Another block that, according to Trump, has long outlived its usefulness, is NATO, as it is "obsolete,""was designed many years ago" and some of its members aren't paying in enough.
"The countries aren't paying their fair share so we're supposed to protect countries. There's five countries that are paying what they're supposed to. Five. It's not much," Trump said.
US policies came under fire afterward, with Trump branding the US-Iran nuclear agreement "one of the dumbest deals" he's ever seen, and then calling the invasion of Iraq "possibly the worst decision, ever made in the history of our country. It's like throwing rocks into a beehive."
However, there was at least one thing Trump was very enthusiastic about – and that's Brexit.
Citing the fall in the British pound, Trump said "business is unbelievable in a lot of parts of the UK, as you know. I think Brexit is going to end up being a great thing."
Also, the president-elect said he was planning to make a trade deal with the UK "very quickly."
"I'm a big fan of the UK, we're going to work very hard to get it done properly."
Last but not least, Trump was asked about his social media presence and whether he would tune it down after the inauguration. In short, the answer is no.
"@realDonaldTrump I think, I'll keep it. I've got 46 million people right now — [on] including Facebook, Twitter and Instagram, so I'd rather just let that build up."
And the tweeting is here to stay, the president-elect said.
"I thought I'd do less of it, but I'm covered so dishonestly by the press that I can put out Twitter – and it's not 140, it's now 280 – and as soon as I tweet it out — this morning on television, Fox — 'Donald Trump, we have breaking news.'"
You can share this story on social media: