Judge orders auction of FL sheriff's sergeant's property to cover shooting victim's medical bills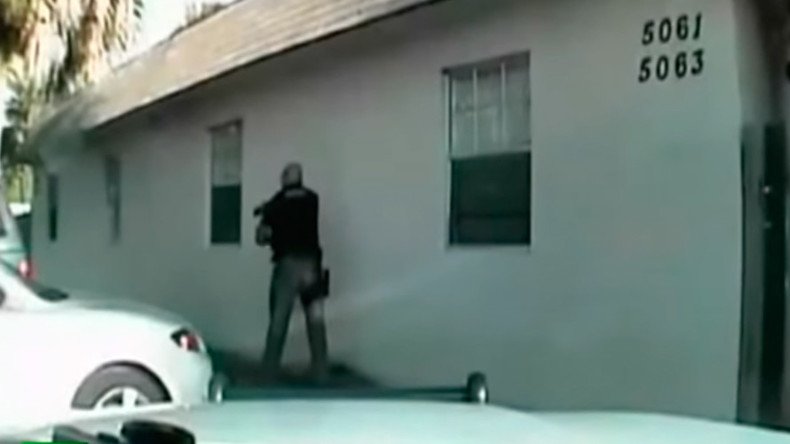 Furniture, clothes, a car and other personal possessions of a Palm Beach County sheriff's sergeant will be sold to the highest bidder, following a federal judge's order in favor of a man who was unarmed when the officer shot him and left him paralyzed.
Dontrell Stephens was shot and paralyzed by then-Deputy Adam Lin in September 2013 when Lin mistook Stephens' cell phone for a gun. Stephens, now 23, had been stopped for riding his bicycle into traffic.
In February 2016, a jury awarded him $23.1 million, finding the Palm Beach County Sheriff's Office and now-Sergeant Lin civilly liable. The amount was eventually lowered to $22.4 million, but Stephens has yet to receive a nickel, as the state legislature must approve any payouts over $200,000.
On Saturday, Lin unexpectedly began paying for Stephens' medical bills when a court order was delivered to and swiftly acted upon at Lin's residence. The order allowed the confiscation of nearly all of Lin's property, including "his car, couch, coffee tables, end tables, lamps, his collection of Samurai swords, flatscreen TV, iron, ironing board, computer, golf clubs, bicycle, tools, and almost all of his non-Sheriff's Office clothing," the Sun-Sentinel reported based on statements from Stephens' attorney.
After reading the court order, Lin was shaking before he fainted and collapsed, Jack Scarola, Stephens' attorney, told the newspaper. The lawyer said Lin was revived by paramedics at the scene, as movers took his things out of his home and into a moving truck.
"I don't think we took any shoes and I don't think we took any underwear," Jack Scarola said, but added, "shirts and pants and shorts are all gone, jackets."
"We left behind cups and saucers and dishes," Stephens' lawyer continued. "There's nothing of any significant value in those."
Police union head John Kazanjian fears the seizure will lead to unintended consequences.
"Is this going to start a precedent now? Now, law enforcement officers are going to be watching over their back for any type of civil suits and you're going to lose your property?" the Palm Beach County Police Benevolent Association president told WPTV. "All across the country law enforcement officers are, you know, losing their lives, getting ambushed, getting run over, getting stabbed, all this and now this. Who is going to want to do this job? Pretty soon nobody."
US Magistrate Judge Barry Seltzer honored the request when Lin's attorneys failed to file a bond request, according to Val Rodriguez, an attorney unrelated to the case but who has sued the sheriff's office multiple times, the Palm Beach Post reported.
Scarola said he warned the sheriff's office of a seizure request should the department not pay the $200,000 not required to be approved by the state legislature, according to the Sun-Sentinel. And he continues to offer such a deal, which would prevent Lin's property from going to auction in a few weeks.
The sheriff's office appealed the jury's verdict to have the department pay Stephens millions of dollars, and hearings begin in March. An overturned verdict would mean Stephens would need to once again seek $200,000 from the department.
What money comes out of the auction will first go to pay US Marshall fees, moving and storage fees, as well as tow truck fees.
In October, Stephens was arrested for selling one-tenth of a gram of heroin and cocaine as well as some marijuana to an undercover sheriff's officer at a daycare center. The department posted Stephens' mugshot on social media, prompting Stephens' attorney Ian Goldstein to tell local reporters the arrest was "completely related to the shooting."
You can share this story on social media: