Florida county seeks independent review board after 97% of officer-involved shootings 'justified'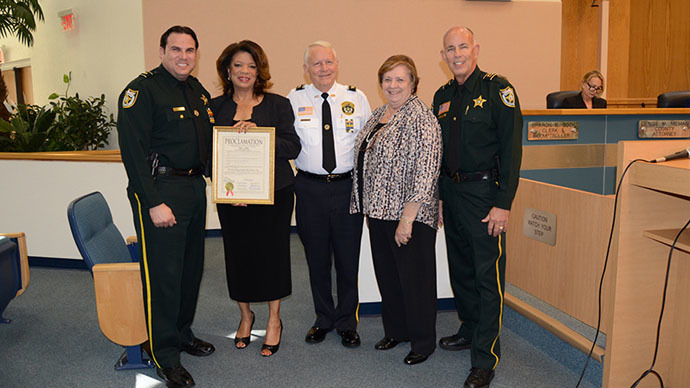 A county commissioner in Palm Beach, Florida doesn't want law enforcement agencies in the jurisdiction to be the only ones looking into their own officer-involved shootings and use-of-force incidents. She wants an independent board to investigate, too.
At a meeting Tuesday, Palm Beach County Commissioner Priscilla Taylor will ask the county to create an independent board that would review officer-involved shootings and use-of-force incidents alongside the police department. The review board would cover all law enforcement agencies in the county.
Taylor said she was spurred into action after reading about disturbing patterns of violence by sheriff's deputies in Palm Beach County.
BREAKING: PBSO invites FBI, outside group to investigate shootings after Post/ @WPTV stories http://t.co/14wLY1muIvpic.twitter.com/rC7fkzlemE

— The Palm Beach Post (@pbpost) May 5, 2015
A joint investigation by WPTV and the Palm Beach Post found that the Palm Beach Sheriff's Office (PBSO) has declared 97 percent of its deputy-involved shootings ‒ including deadly ones ‒ were justified, dating back to 2000. Many of those decisions were based on cursory or incomplete probes.
The investigation also found that the suspects who were shot at were unarmed about a quarter of the time. The media organizations noted that the Department of Justice has found fault with police departments that shot at unarmed suspects less frequently than the PBSO. Deputies disproportionately shot at young black men, a third of whom were unarmed. Less-than-lethal force options, including tasers and batons, were seldom used before deputies resorted to their firearms.
Posted by PBSO - Palm Beach County Sheriff's Office on Tuesday, May 5, 2015
On Tuesday, PBSO announced sweeping new measures to address the problems unveiled by the WPTV-Palm Beach Post investigation. The actions are intended to better ensure public trust and transparency.
The sheriff's office plans to improve internal procedures after a policy research forum formally reviews all its internal affairs policies and procedures; launch regional citizen advisory meetings to better engage the public; and has invited the FBI to review one specific case, WPTV reported. The PBSO did not specify which case the FBI will review.
Taylor said she was particularly disturbed by one case in which a newly released dash-cam video shows a PBSO deputy stopping an unarmed black man riding his bike. The man, Dontrell Stephens, was left paralyzed from the waist down after Deputy Adams Lin shot him four seconds later.
READ MORE: Dash-cam video refutes police claim of justified shooting that left unarmed man paralyzed (VIDEO)
An internal investigation cleared Lin of wrongdoing after four days, calling the shooting justified.
"It's unnecessary and it's just like what happening across the country,'' Taylor told the Palm Beach Post. "Really, I think they need an outside citizen's review board.''
Taylor is currently part of a group that includes a school board member, local clergy and community leaders ‒ many from the inner cities ‒ to try to prevent protests over police use-of-force from erupting into violence.
"The last thing we want to do is have our community destroyed. We are working behind the lines to make sure that we can prevent issues like that,'' Patrick Franklin, president and CEO of the Urban League of Palm Beach County, told the Palm Beach Post.
Franklin is also part of the group, which was convened by State Attorney Dave Aronberg at the end of March. Police weren't invited.
PBSO invites FBI to examine one case - possibly the bicyclist shot by a deputy in 4 seconds: Post/Channel 5 stories pic.twitter.com/xFzNWlOkBt

— Holly Baltz (@editorextra) May 5, 2015
At the end of April, Taylor began organizing a symposium of law enforcement officials and community leaders with the goal of reducing the "unnecessary" rate of shootings of unarmed residents by the PBSO. That meeting will be held in May or June.
"It is a serious issue and we don't want it to fester here in Palm Beach County what is going on in the rest of the county,'' Taylor told the Palm Beach Post.
"I hope the discussion will bring out some information that can be shared," she added. "It's important for people in those positions to really hear what the community is saying and maybe come up with some idea to try to address that.''
Taylor plans to invite Sheriff Ric Bradshaw.
"Hopefully the sheriff himself will come,'' she said. "We have avoided the conversation. I think we need to talk about.''
County attorneys are researching the idea of the independent review board, as well as whether they have the power to create one, County Mayor Shelley Vana told WPTV. That discussion is on the agenda for Tuesday's meeting.
Taylor announced in March she is running for an open Florida congressional seat.