Clinton backer Soros lost $1bn in stock market surge post-Trump win – report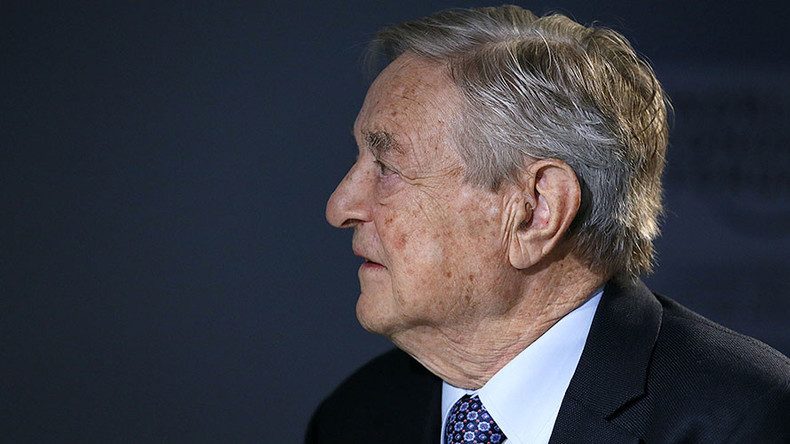 Billionaire hedge fund manager and avid Hillary Clinton supporter George Soros lost $1 billion dollars in the wake of Donald Trump's election victory after the stock market surged in reaction to the shock result, according to a report by the Wall Street Journal.
Soros suffered substantial losses as the market experienced an unexpected rally, according to unnamed sources, quoted by the Wall Street Journal.
His larger fund – Soros Fund Management – which manages about $30 billion for Soros and his family, gained 5 percent over last year according to the WSJ.
Soros' former deputy, billionaire hedge fund manager Stanley Druckenmiller, reportedly foresaw the market shift and made sizable gains. Druckenmiller was instrumental in Soros' big bet against the the British pound in 1992, racking up $1 billion in profits.
Despite many experts predicting stocks would tumble, the dollar hit a 13-year high following Trump's election victory. This jump was based on investor expectations that his presidency would lead to looser regulation in some sectors, lower tax rates and an overall boost in the US economy.
A Soros-backed hedge fund start up, Glen Point Capital, suffered major losses as a result of market volatility in November. The macro hedge fund which raised almost $2 billion in 2016 lost 5 percent in November, according to an investor letter, as cited by Bloomberg.
Soros contributed millions to Clinton's campaign and pro-Clinton organizations, including Clinton campaign Chair John Podesta's think tank, Center for American Progress. His close relationship with the Clinton campaign was revealed in hacked emails from Podesta released by WikiLeaks.
An email leaked by WikiLeaks in August also revealed his close relationship with Clinton when she was secretary of state.
READ MORE: George Soros' world is falling apart – and he blames everyone but himself
In 2011, Soros instructed her on how to deal with unrest in Albania, stressing it "needs urgent attention at senior levels of the US government."
Soros has been a vocal critic of Trump, calling him "a would-be dictator" in an editorial for Project Syndicate in an end-of-year article where he voiced his concern for the future of democracies around the world.
You can share this story on social media: