'Trump is right': Bernie Sanders hopes to make drug pricing deal with president-elect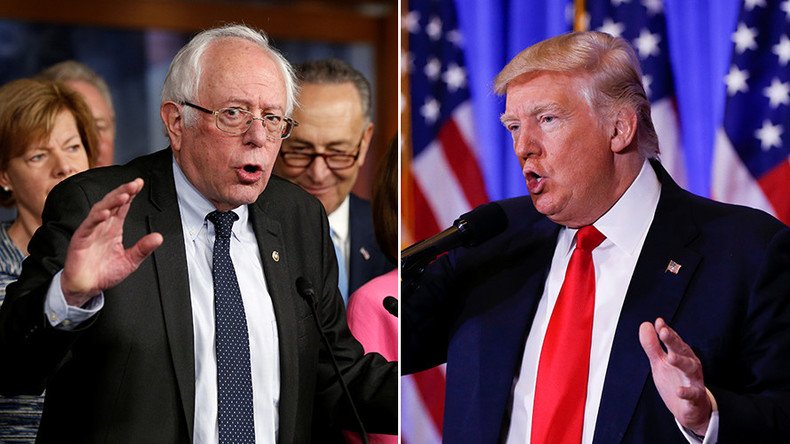 President-elect Donald Trump and former presidential candidate Senator Bernie Sanders (I-Vermont) don't always see eye to eye, but the democratic socialist is praising Trump's recent comments on the pharmaceutical industry in hopes of achieving reform.
While most remember Trump's Wednesday news conference for the unfortunate back-and-forth with CNN's Jim Acosta, it was a different moment that piqued Sanders' interest.
"Our drug industry has been disastrous," Trump told reporters, first stressing that they needed to up manufacturing of drugs in the US.
"And the other thing we have to do," Trump continued, "is create new bidding procedures for the drug industry, because they're getting away with murder."
Sanders largely agrees.
"He's right," Sanders said in an interview with the Huffington Post. "And I've been saying that for years."
"Pharma does get away with murder. Literally murder. People die because they can't get the prescription drugs they need," the former Democratic presidential candidate said.
READ MORE: 93% of 'patient advocacy' groups funded by drug & medical giants – report

"Sometimes he copies my statements," Sanders said of Trump. "I don't know if he got that one from me."
Both Trump and Sanders seem to share a tendency for overstatements, however. Sanders also agreed with Trump's comments about big pharma lobbyists, telling the Post, "It's true. Pharma does have lobbyists all over the country, not just in Washington. These people are horrific."
Sanders also corrected Trump on the matter of "bidding."
"He means 'negotiating,'" Sanders said. "And if he's up for negotiating, of course we have to do that. The VA does that and their prices are lower than for Medicare and other government agencies."
The Huffington Post reported that Sanders would introduce a nonbinding amendment to budgetary legislation Wednesday evening, which would allow prescription drugs to be imported from highly regulated foreign markets, including Canada and the United Kingdom. Sanders believes those countries' negotiations with the industry would ultimately save the US money as well.
However, Sanders does not seem optimistic.
READ MORE: 'Pharma Bro' Shkreli livestreams Q&A rant over schoolkids' drug invention (VIDEO)
"The question is whether Trump and his Republican colleagues have the guts to take on one of the most powerful industries in America," Sanders said. "It's not gonna be done, of course."
Sanders has been highlighting Trump's past and current positions on healthcare and entitlements for some time. On Tuesday, a day before Trump's first press conference as president-elect, Sanders tweeted about Trump 18 times.
You can share this story on social media: