Police killing protests motivated by anti-police bias – cops survey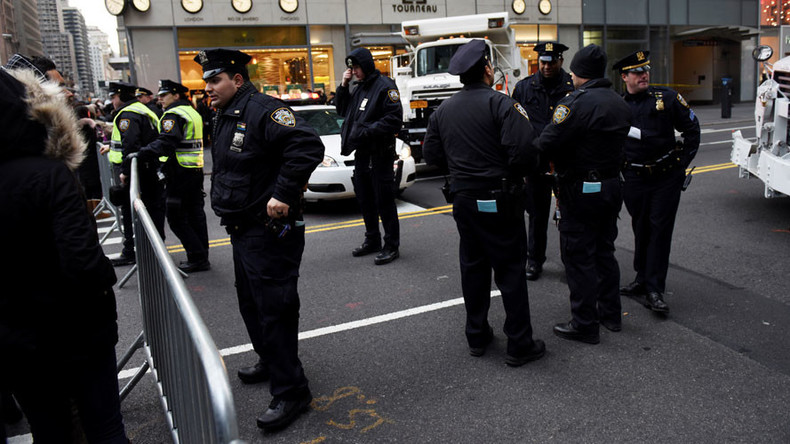 A clear majority of US police officers, especially white cops, are convinced that disproportionate police killings of black people are not a systemic issue and that protests over these killings are motivated by anti-police bias, a national survey says.
Nearly 8,000 law enforcement officers from across the US responded to a survey by the Pew Research Center and the National Police Research Platform, a project funded by the US Department of Justice.
The survey, released on Wednesday, indicates that US police officers believe the spate of high-profile killings of black men and women by law enforcement, and the demonstrations and calls for police reform that have followed, have made their jobs more difficult (86 percent), have made officers more concerned for their safety (93 percent), and have led to a decrease in officer willingness to stop and question suspicious persons (72 percent).
Thirty-five percent of all officers surveyed — 27 percent of whom are white — said that protests that have occurred following fatal police encounters with black people are motivated to some degree by a desire to hold officers accountable. Two-thirds, or 68 percent, of all officers said the demonstrations were motivated by a "long-standing bias against the police."
Another two-thirds of officers said police killings of black individuals are isolated incidents; 72 percent of white officers, 72 percent of Hispanic officers, and 43 percent of black officers agreed with this view. Meanwhile, 31 percent of all officers, led by 57 percent of black cops, said the fatal encounters are emblematic of larger issues. Sixty-three percent of female black officers agreed with this sentiment.
White and Hispanic officers were far more likely than black cops to say that, in their area of the US, police-community relations are positive, especially among minorities. White officers (92 percent) are much more likely than black cops (29 percent) to report that the US has sufficiently transformed into a racially equitable society. In comparison, regular surveying of the public has found that 57 percent of white adults believe no changes are needed to ensure racial equality in the US, Pew reported.
Thirty-six percent of white cops, compared to 20 percent of black officers, said they have "physically struggled or fought with a suspect who was resisting arrest in the past month."
Officers who perform poorly are not held accountable, 72 percent of officers said, while just more than half of all cops said their department's disciplinary procedures are fair, the survey reported.
Only 14 percent of all cops said the public understands the risks they take as officers, while 86 percent said the public is clueless on the matter. More than 80 percent of American adults have said they understand these risks, Pew pointed out.
Most law enforcement officers (62 percent) see their role as an equal amount of protector and enforcer in their communities, the survey found, with 31 percent saying they are more of a protector while 8 percent said they are more of an enforcer.
Just more than half of cops said police work often frustrates them, while 58 percent said they nearly always or often are proud of their work. Officers who reported feeling angry on the job were more likely to feel less connected to the communities they serve, Pew found.
You can share this story on social media: