Trump says he has 'no deals, no loans, no nothing' with Russia amidst new scandal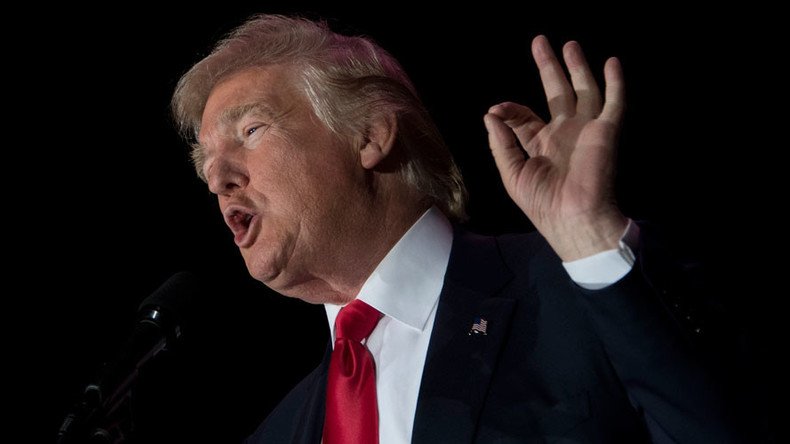 As Donald Trump's foes persist in claiming he has ties with Moscow, the president-elect has tweeted that he has "no deals, no loans, no nothing" with Russia on the heels of the publication of an unverified report alleging Moscow has supported him for years.
Trump tweeted on Wednesday morning that Russia "has never tried to use leverage over me. I have nothing to do with Russia – no deals, no loans, no nothing!"
The refutation comes in the wake of an unverified report published by BuzzFeed earlier on Wednesday which alleges that Russia has been "cultivating, supporting, and assisting" Trump for at least five years, and has compromising information on him.
READ MORE: Russia has no compromising info on Trump or Clinton, report is 'total bluff' – Kremlin
Among the alleged dirt is a claim that Trump has "personal obsessions and sexual perversion," and that he once had Russian prostitutes urinate on each other in a hotel bed that the Obamas had previously shared.
The dossier also suggests that Russian officials offered Trump lucrative deals in order to win influence over him ahead of the election.
Trump said the report was "paid for by political opponents," adding that Russia has called it a "complete and total fabrication, utter nonsense" and "very unfair."
The president-elect also blasted the intelligence agencies for allowing the "fake news" to be leaked into the public, calling it "one last shot" against him.
The Kremlin has indeed stated that the report is a "total bluff," adding that it has no compromising information on Trump.
"The Kremlin has no compromising information on Trump. This report does not correspond to reality and is nothing but an absolute fiction," the deputy head of the Russian presidential administration, Dmitry Peskov, told reporters on Wednesday.
"This is a total bluff, an absolute fabrication, complete nonsense," he added.
BuzzFeed has been slammed by journalists and media executives across the globe for publishing the report without verifying it. The story was refused by other media outlets, though CNN did report that US intelligence chiefs had given Trump and President Obama a two-page summary of the report last week.
READ MORE: Ain't that a p*sser? #GoldenShowers trends after unverified report of Trump sexcapades
Even Trump's critics have jumped in to defend the president-elect from the story, with Mother Jones' Washington Bureau chief David Corn tweeting that "Even Donald Trump deserves journalistic fairness."
After the report made waves on Twitter under the hashtag #GoldenShowers, an anonymous member of the message board on the website 4chan claimed the urination story started on the site under the category of "fan fiction." He or she claimed the story had been sent to Republican political strategist Rick Wilson months ago, who proceeded to send it to the CIA, which then put it in the agency's official classified intelligence report on the election.
You can share this story on social media: