WikiLeaks trolls Dems with Podesta memo pushing 'Pied Piper' Trump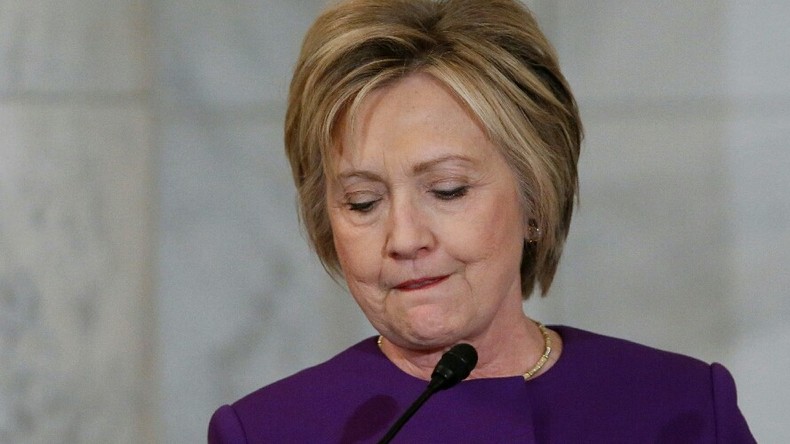 Whistleblowing website WikiLeaks has been trolling Democrats on Twitter by highlighting one of the leaked Podesta emails, revealing a Clinton campaign strategy to bolster "Pied Piper" candidates such as Donald Trump.
The strategy was apparently designed to force more moderate Republican candidates into more conservative positions making them unpalatable to the majority of the electorate.
The email was sent back in April 2015, before Trump had cemented his position as a viable contender, as the then-crowded Republican field of candidates jockeyed for position.
It came from the mastor@hillaryclinton.com account, likely belonging to Marissa Astor, who worked as an assistant to Clinton campaign manager Robby Mook. It was found in the WikiLeaks dump of emails belonging to Clinton campaign chairman John Podesta.
After originally drawing attention to the document in a tweet last October WikiLeaks again highlighted it on the social network on Friday – perhaps purposefully drawing attention to how spectacularly the strategy backfired.
WikiLeaks' tweet drew scores of responses with many noting the irony of the Democrats strengthening Trump's position only for him to defeat Clinton in November. Others posted messages of support for defeated Democrat candidate Bernie Sanders.
"This memo is intended to outline the strategy and goals a potential Hillary Clinton presidential campaign would have regarding the 2016 Republican presidential field," an attachment on the email reads.
The document says the goal is "to make whomever the Republicans nominate unpalatable to a majority of the electorate."
Three strategies are outlined to attempt to do this:
1) Force all Republican candidates to lock themselves into extreme conservative positions that will hurt them in a general election;
2) Undermine any credibility/trust Republican presidential candidates have to make inroads to our coalition or independents;
3) Muddy the waters on any potential attack lodged against HRC.

READ MORE: '14-yr old kid could do it'- Assange on Podesta email hack
The memo calls for using "Pied Piper Candidates" to force the rest of the field to do damage to itself, "similar to what happened to Mitt Romney in 2012," the memo says. Trump, Ted Cruz and Ben Carson are specifically name-checked as examples of "Pied Pipers."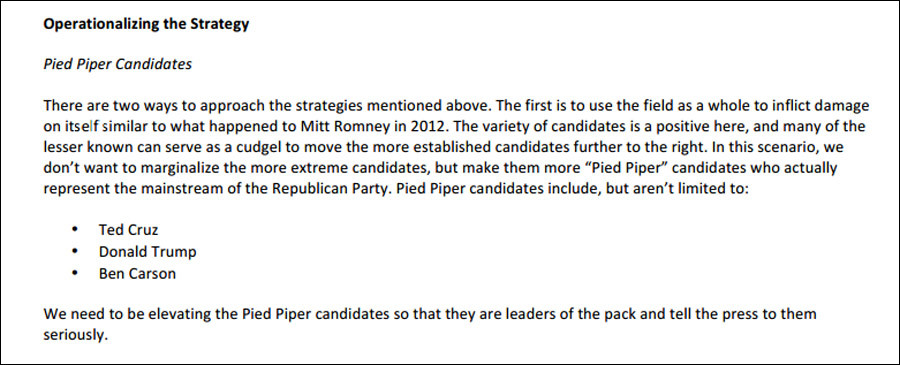 The document explains that the goal isn't to marginalize the more extreme candidates, but rather to elevate them "so that they are leaders of the pack" and to "tell the press to (take) them seriously."
It indicates the campaign team believed that the "Pied Pipers" would help in preventing the more established candidates building a strong support base for the general election. However, they theorized that they would also need to do some of their own work to undermine the top candidates.
The memo specifically outlines a brief strategy for undermining a handful of candidates they saw as potential winners of the Republican race. This list included Jeb Bush, Marco Rubio, Scott Walker, Rand Paul, Bobby Jindal and Chris Christie – however eventual winner Trump wasn't mentioned.