'14-yr old kid could do it'- Assange on Podesta email hack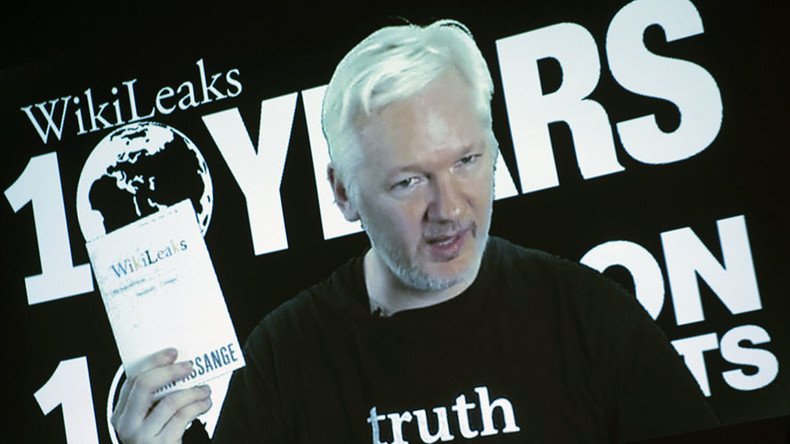 Even a 14-year old teenager could have hacked the emails of Hillary Clinton's campaign chief, John Podesta, WikiLeaks founder Julian Assange has said in an exclusive interview with Fox News.
"We published several ... emails which show Podesta responding to a phishing email," Assange stressed speaking from the Ecuadorean Embassy in London.
"Podesta gave out that his password was the word 'password'. His own staff said this email that you've received, this is totally legitimate. So, this is something ... a 14-year-old kid could have hacked Podesta that way," he said in an interview which aired on "Hannity" Tuesday night.
He added that neither the Russian government nor "a state party" was the source of emails from Podesta, published on the WikiLeaks website.
"We can say, we have said, repeatedly that over the last two months that our source is not the Russian government and it is not a state party," Assange said.
Assange noted that for some reason, "the word WikiLeaks" was missing in recent statements from the FBI and White House, even when US President Barack Obama expelled 35 Russian diplomats in what he said was Washington's "response to the Russian government's aggressive harassment of US officials and cyber operations aimed at the US election."
"It's very strange," Assange told Fox News' Sean Hannity. Asked whether he thought Obama lied to the American people about Russia's involvement, Assange replied that the outgoing president has been "acting like a lawyer" with his allegations.
"If you look at most of his statements, he doesn't say that. He doesn't say that WikiLeaks obtained its information from Russia, worked with Russia," Assange said.
Julian Assange said "a 14 year old could have hacked Podesta" - why was DNC so careless? Also said Russians did not give him the info!

— Donald J. Trump (@realDonaldTrump) January 4, 2017
The 45-year-old Australian said the Obama administration was meanwhile trying to "delegitimize" US President-elect Donald Trump ahead of his inauguration.
"They are trying to say that President-elect Trump is not a legitimate president," Assange said.
There is "zero evidence" that Russia influenced the US presidential election, incoming White House Press Secretary Sean Spicer said on Fox News on Tuesday, adding that it would be "irresponsible to jump to conclusions" before receiving a final intelligence report.
READ MORE: 'Not enough data to show Russian link to election' – Wordfence CEO
Spicer noted that the preliminary report, published on Thursday, was basically just "a how-to manual for the DNC as to how they can improve their IT security."
"The way the mainstream media is playing this up is that [Russia] had an influence on the election,"Spicer added.
Earlier, CIA Director John Brennan said the forthcoming intelligence report would set the record straight. "I would suggest to individuals that have not yet seen the report, who have not yet been briefed on it, that they wait and see what it is that the intelligence community is putting forward before they make those judgments," he told PBS on Tuesday.
The "Intelligence" briefing on so-called "Russian hacking" was delayed until Friday, perhaps more time needed to build a case. Very strange!

— Donald J. Trump (@realDonaldTrump) 4 января 2017 г.
Meanwhile, Donald Trump said that a briefing he was due to receive on Russia's alleged hack attacks and meddling with US elections was strangely delayed until Friday, making the President-elect wonder whether there was enough "intelligence" to "build" the case in the first place.
Trump previously expressed skepticism about the US intelligence community's assessment of Moscow's involvement in hack attacks and its alleged attempts to influence presidential elections. "I just want them to be sure because it's a pretty serious charge," Trump said on December 31, recalling the US invasion in Iraq was based on flawed and false intelligence. "If you look at the weapons of mass destruction, that was a disaster, and they were wrong," he added.
You can share this story on social media: