Cancer death rate down 25%, fewer men being diagnosed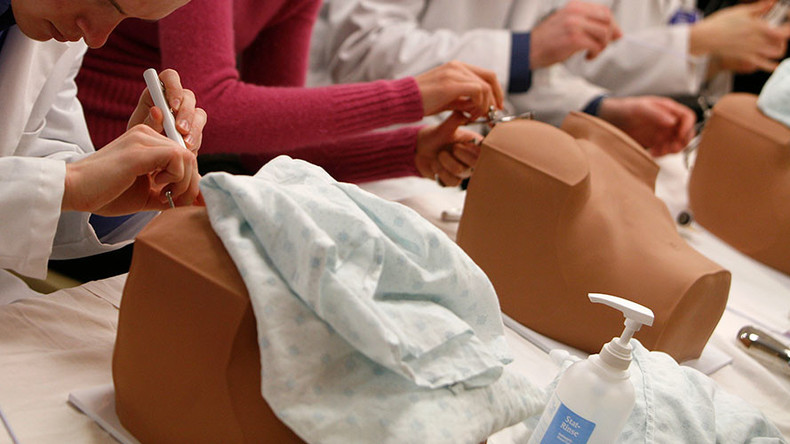 More than 2.1 million cancer related deaths were avoided between 1991 and 2014 in the US, according to newly released data, which also shows that racial disparities in the rate of cancer diagnosis and deaths are still significant but narrowing.
New cancer diagnoses for American men have steadily decreased in the last decade, at about 2 percent per year, while rates for women have remained static, according to annual data ‒ "Cancer Statistics, 2017" ‒ published Thursday by the American Cancer Society (ACS). The decrease in cancer rates for men is attributed primarily to adjustments in prostate cancer screenings.
In the last decade, cancer deaths in the US have fallen by around 1.5 percent in both men and women, the ACS found.
The overall cancer death rate in the US dropped significantly, by about 25 percent, from 1991 to 2014, the most recent year for available data. This drop represents more than 2.1 million less deaths, the ACS said in a statement.
"The continuing drops in the cancer death rate are a powerful sign of the potential we have to reduce cancer's deadly toll," said Dr. Otis W. Brawley, chief medical officer of the ACS.
Lung cancer remained the leading cause of cancer deaths in the US. Lung, colorectal, prostate and breast cancers account for about 46 percent of cancer deaths in the US, the ACS reported.
For men, prostate, lung, and colorectal cancers are predicted to make up 42 percent of all newly diagnosed cancers in 2017. Prostate cancer will account for about 20 percent of such cases.
For women, breast, lung and colorectal cancers is anticipated to make up about half of all newly diagnosed cancers this year, with breast cancer accounting for 30 percent of new cancer cases.
Newly diagnosed cancer rates for prostate, lung and colorectal cancers have decreased in recent years. The drop in prostate cancer cases in men is associated with new insight into screening and diagnosis processes, while a drop in lung cancer cases is attributed to less smoking. Lung cancer rates are dropping for men twice as fast as for women, the ACS reported.
A decline in colorectal cancer rates is connected to more screenings; colonoscopies, for example, tripled among adults ages 50 years and older from 2000 to 2015. However, the colorectal cancer rate for people younger than 50 increased by 2 percent per year from 1993 to 2013.
From 1975 to 2013, cancer rates in children and adolescents increased by 0.6 percent per year, the ACS noted, though death rates have steadily dropped in that time period. In 2017, it's expected that more than 10,000 children and adolescents will be diagnosed with cancer, with estimations that about 1,200 children diagnosed with cancer will succumb to the disease.
Leukemia accounts for nearly one-third of all cancers diagnosed in children, the report said, while brain and associated nervous system tumors amount to 26 percent of such diagnoses.
Cancer and race
Racial disparities in cancer diagnoses and death rates remain, yet they have declined overall in recent decades, the ACS reported.
Black men were 47 percent more likely to die of cancer than white men in 1990, the ACS found. In 2014, that disparity dropped to 21 percent. Black women were 20 percent more likely to die of the disease than white women in 1998, but 13 percent more likely in 2014.
Overall, the cancer death rate for black Americans was 15 percent higher than for white Americans in 2014.
Among all race and ethnic groups in the US, cancer rates were generally highest among African-Americans and lowest in Asian-Americans.
Fighting cancer in "disadvantaged groups" is a significant aspect of the nation's continuing attempts to better detect and defeat cancer in the US, Brawley noted.
"Continuing that success will require more clinical and basic research to improve early detection and treatment, as well as creative new strategies to increase healthy behaviors nationwide," he said. "Finally, we need to consistently apply existing knowledge in cancer control across all segments of the population, particularly to disadvantaged groups."
You can share this story on social media: