Trump backs Assange on Russian hacking claims, blasts DNC 'carelessness'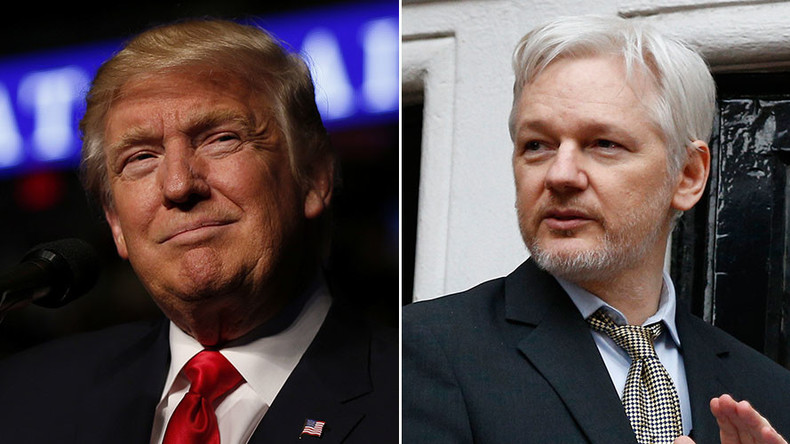 President-elect Donald Trump has supported WikiLeaks founder Julian Assange's assertions that the Russian government was not the source of leaked emails from the Democratic National Committee (DNC).
Trump also blasted the political organization for its "carelessness" around its tech security when responding on Twitter Wednesday to an exclusive Fox interview with Assange.
READ MORE: Assange: Our source is not the Russian government
Assange told Fox host Sean Hannity that neither the Russian government nor a state party were the source of the hacked emails.
Trump posted a number of tweets commenting on the interview, pointing out that Assange has once again said that Russia did not leak the DNC information. The president-elect then went on to question the DNC's technical defenses and criticized the "dishonest" media.
The Republican's statements were slammed by many online, who questioned why Trump was accepting the word of a whistleblower taking asylum at the Ecuadorean Embassy in London to avoid extradition to Sweden over a rape accusation.
Former Alaska governor and GOP vice-presidential nominee Sarah Palin expressed her apologies to Assange on social media following the broadcast and thanked him for "exposing the truth" about the Left.
"I apologize for condemning Assange when he published my infamous (and proven noncontroversial, relatively boring) emails years ago," she wrote on Facebook.
In 2010 Palin branded the Australian whistleblower "an anti-American operative with blood on his hands" and said he should be hunted down in the way Al-Qaeda and Taliban leaders are pursued.
Palin ended the post by encouraging people to watch Oliver Stone's recent movie about NSA whistleblower Edward Snowden: "That movie and Hannity's interview tonight are quite enlightening."
Meanwhile, Vice President-elect Mike Pence told Republican congressional leaders Wednesday that Trump has expressed his "very sincere and healthy American skepticism about intelligence conclusions."
"Given some of the intelligence failures of recent years," Trump has "made clear he is skeptical about their conclusions," Pence said.
Trump, who will be inaugurated the 45th President of the United States on January 20, had earlier tweeted that an intelligence briefing he was due to have on the "Russian hacking" was delayed until Friday.
While the director of US national intelligence declined to comment on the claim, senior administration officials said no meeting had been scheduled for Tuesday, according to the New York Times.
FBI Director James B Comey and Director of National Intelligence James R Clapper Jnr are reportedly due to meet Trump in New York on Friday to brief him about their findings in relation to Russia's alleged role in the US election.
You can share this story on social media: