New Mexico store under fire for racist, anti-muslim posters (PHOTOS)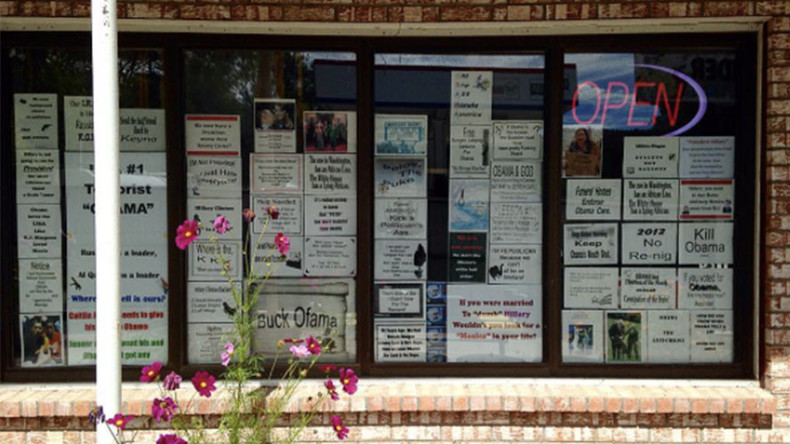 A convenience store in Mayhill, New Mexico has sparked outrage online for displaying racist, xenophobic and anti-Muslim signs in its store front window while also generating huge debate about the limits of the first amendment right to free speech.
According to former employee of the Mayhill Convenience store, Marlon McWilliams, the signs have, "been here a long time."

"He sells those signs to people who come through and stop and read them," McWilliams told local news outlet KOB4.
No controversial topic is left untouched, with references to abortion, the Clintons, the welfare state and Muslims. A number of celebrity call-outs have also been spotted among the many signs posted on the window, from Colin Kaepernick to President Obama, who features heavily among the signs. "Obama loves the USA like O.J. Simpson loved Nicole," reads one sign, while another references "dumb Hillary."
"Obama & other Muslims not welcome here," reads another poster seen hanging on a door window.
The store also sells Obama toilet paper for a whopping $9.50 plus tax.

Reviews have been largely negative on the store's Facebook page since the story first appeared:
However, some have rushed to defend the store owner's right to free speech, regardless of the content and their own personal disagreements with his ideas:
The anti-Muslim sentiments expressed across many of the signs, which were subsequently shared online, have even drawn the attention of the Council of American-Islamic Relations (CAIR), the largest Muslim civil rights advocacy group in the United States.
"While everyone has the First Amendment right to free speech – even offensive speech – we urge the store's owner to remove the sign in the interest of common decency and of our nation's unity at a time of increasing divisions," the council's communications director Ibrahim Hooper said in a statement.
READ MORE: Miami cops fired after 'joking' about using black neighborhood as target practice
The store is reportedly up for sale for $359,000 at present and, although McWilliams thinks it is overpriced, he remains optimistic that someone will purchase the property soon, while lamenting that, for many in the rural area, the store is "the only place you can go to get milk and bread."
The store's owner has not yet commented on the issue.
You can share this story on social media: