Rick Santorum 'unconvinced' Russia behind alleged election hacking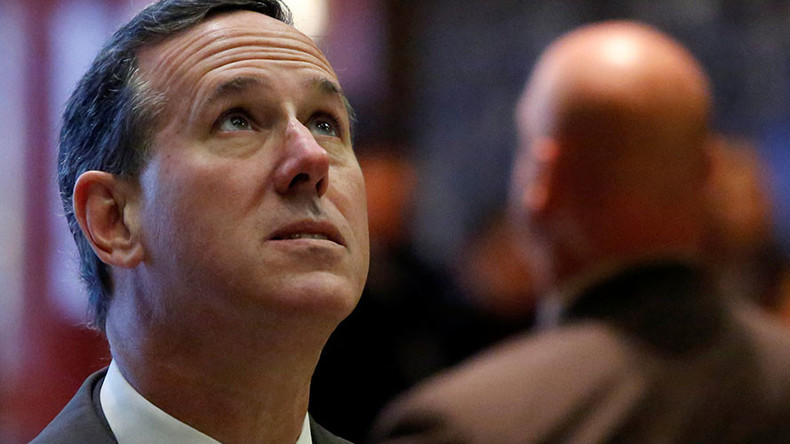 Former Republican presidential candidate Rick Santorum has said he is "unconvinced at this point" that Russia was behind the hacking of a number of US institutions in the run up to November's elections.
Santorum described as "clearly political" the length of time Obama waited to announce the latest sanctions against Russia, with the real motive being to destabilize the incoming administration, adding that it was a decision that won't "go down as a bright spot for the Obama presidency."
"Some of this wasn't even a hack, it was a basic phishing expedition, where one of the DNC officials gave a password. That's not a hack, that's just criminal activity," Santorum said in an interview with CNN. "It may be Russia, or maybe somebody else took advantage."
"First off, who did the actual hacking," Santorum asked when pressed by host Kate Bolduan about Russian involvement, adding that "state actors aren't the ones doing the hacking."
"I'm unconvinced at this point," the former Pennsylvania Senator added. "I'm willing to be convinced but I'm unconvinced at this point that this is what really happened here."
Santorum's remarks echo Trump's previous comments in which he also contested the accusations of Russian involvement, stating on Thursday that "we ought to get on with our lives."
"I think that computers have complicated lives very greatly. The whole age of computer has made it where nobody knows exactly what's going on," Trump said.
Obama announced new sanctions targeting intelligence services and officials as well as technology companies on Thursday, amounting to four individuals and five entities, which the US government accused of hacking into American institutions ahead of the November election.
In an interview with Larry King on RT, antivirus pioneer John McAfee described as a "fallacy" the suggestion that it was Russia who was behind the hack.
"If it looks like the Russians did it, then I can guarantee you it was not the Russians," McAfee said, adding that "if I was the Chinese and I wanted to make it look like the Russians did it, I would use Russian language within the code, I would use Russian techniques of breaking into the organization."
READ MORE: 'Not the Russians': John McAfee talks hacking allegations, cybersecurity with Larry King (VIDEO)