2-state solution 'only way' for lasting peace between Israelis, Palestinians - Kerry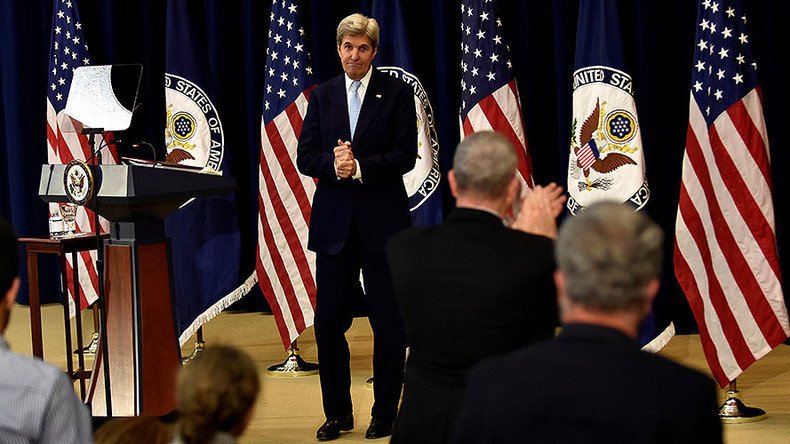 Secretary of State John Kerry laid out the US proposal for a peace agreement between Israel and the Palestinians, less than a month before the Trump administration takes office and at a low point in US-Israeli relations.
Kerry's speech is widely seen as an attempt to set the Obama administration's Middle East policy in stone before the January 20 changeover. President-elect Donald Trump has been vocally supportive of Israel and vowed a change of policy after his inauguration.
"The two-state solution is the only way to achieve a just and lasting peace between the Israelis and Palestinians," Kerry said, adding that it was also the only way to ensure Israel's future as both a Jewish and democratic state.
Israeli Prime Minister Benjamin Netanyahu has accused Washington of conspiring against his country by not blocking the Egyptian resolution condemning Israeli settlements at the UN Security Council last week. The State Department has dismissed the accusation as "just not true."
READ MORE: Kerry's Mid-East speech will 'ensure chaos lasts after Obama admin' – Israeli minister
"The US did in fact vote in accordance with our values," Kerry said, explaining the abstention. "No American administration has done more for Israel's security than Barack Obama's."
The secretary of state also pointed out the amount of military aid Israel has received from the US, from military intelligence to the Iron Dome missile defense program.
"More than half of our entire global foreign military financing goes to Israel," Kerry said.
The two-state solution is in danger despite popular support. "Polls of Israelis and Palestinians show there is still strong support for a two-state solution in theory. They just don't believe it can happen," Kerry said.
As the principal threat to the two-state solution, Kerry cited the proliferation of settler outposts, illegal not only under the Oslo Accords but also under Israel's own laws, often located on private Palestinian land, and strategically located in places designed to make a separate Palestinian state impossible.
"If there is only one state, you'd have millions of Palestinians permanently living in segregated enclaves," Kerry said. "If Israel goes down the one-state path, it will never have true peace with the rest of the Arab world."
Yet since the 2011 US veto of a UN resolution with similar wording as the one recently passed, "over 30,000 settlement units advanced through some stage of the planning process." A veto on Resolution 2334 would have meant US approval for this process, Kerry said.
While the US was putting pressure on the Palestinian Authority to condemn terrorism and violence, Netanyahu's cabinet appears to have embarked on a "Greater Israel" agenda, legalizing a hundred settler outposts in the West Bank and moving in 100,000 more settlers since 2009, according to the US secretary of state.
"We cannot impose the peace," Kerry noted, but "if we're serious about the two-state solution, it's time to start implementing that now."
"The core issues can be resolved, if there is leadership on both sides committed to finding a solution," he added.
As a road map towards a two-state solution, Kerry offered six principles.
Secure and recognized international borders between Israel and a viable, contiguous Palestine, based on 1967 lines with mutually agreed equivalent land swaps.
"Two states for two people, Jewish and Arab, with full equal rights for all citizens," where each can achieve their national aspirations.
A just, agreed, fair and realistic solution to the Palestinian refugee issue, including compensation and acknowledgment of suffering, as well as international assistance in finding permanent homes. The solution would need to be consistent with two states and "cannot affect the nature of Israel."
Jerusalem as the capital of both states, with access to holy sites for all, acknowledging the sentiment that the city should not be divided again.
Ending the occupation while satisfying Israel's security needs while ending the occupation. Israeli security must be guaranteed, but Palestinians need to be able to live in freedom and dignity in a sovereign state, even without a military of their own.
End the conflict between Israel and neighboring Arab states, enabling the creation of an "absolutely groundbreaking" security structure in the region.
"Common interest in countering Iran's destabilizing activities" could be the basis of this new relationship between Israel on one side, and Jordan, Egypt, and the Gulf Arab states on the other, Kerry suggested earlier in the speech.
"There really is no other viable alternative," he concluded.
President-elect Trump apparently believes otherwise. Earlier on Wednesday, he tweeted "Stay strong Israel, January 20th is fast approaching!"
An hour later, he received a thank-you message from Netanyahu.
Palestinians, on the other hand, signaled they were ready to resume talks if Israel halts work on the settlements and "implements signed agreements," media reported PA President Mahmoud Abbas as saying.
Senator John McCain (R-Arizona), a known foreign policy hawk, dismissed Kerry's speech as a "pointless tirade in the waning days of an outgoing administration."
You can share this story on social media: