Suspected Arizona 'lone wolf' terrorist arrested for providing 'material support' to ISIS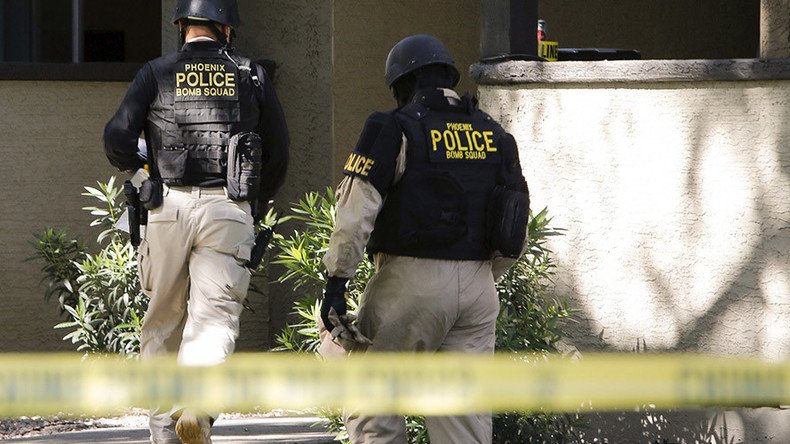 A suspected "lone wolf" terrorist in Phoenix, Arizona, has been arrested for allegedly trying to commit a terrorist attack and providing material support to Islamic State.
Court documents show that Derrick Thompson, who also goes by the name Abu Talib Al-Amriki, was arrested Tuesday and "was involved in communications and activity that show material support for the Islamic State of Iraq and the Levant."
Police were first tipped off about Thompson's plans back in January, after he tried to buy a gun on Backpage.com, an online classified advertising site. Thompson has prior felony convictions, which prevented him from legally obtaining or attempting to obtain any firearms.
Thompson was convicted of two counts of armed robbery in 2005 and was released from prison on January 1, 2013.
According to the most recent arrest statement, the FBI had been investigating Thompson for the past two years, and gathering online evidence from his Google accounts and other online sources. Police said that in that time, Thompson had made several suspicious Google searches including: "midnight mass,""martyrdom vs. suicide" and "fatwa on killing civilians."
They also found that Thompson had become an "avowed jihadist," who posted support for Islamic State (IS, formerly ISIS/ISIL) online, as well as hundreds of Google searched for "assault rifles, scopes, ammunition, suppressors, handguns, shotguns and crossbows."
Thompson faces one felony count of participating in a criminal syndicate, one felony count of assisting a criminal syndicate and one felony count of misconduct involving weapons.
You can share this story on social media: