'A simple fight may follow you for the rest of your life': Schoolyard bullying a felony in Missouri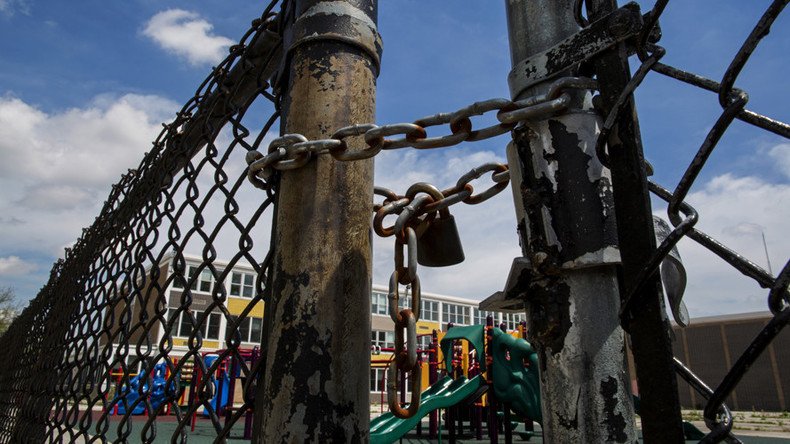 Elementary schoolchildren in Missouri could get into as much trouble as 'Me and Julio Down by the Schoolyard' did if they get into fights on the playground. A new statute may potentially turn such brawls into felonies punishable by up to four years in jail.
When Missouri students head back to the classroom in the new year, bullying and brawling could have much stiffer sentences than the typical punishments of detention, suspension or expulsion. They could land kids in juvenile detention centers.
That's because on January 1, third-degree assault and cases of harassment where the victim suffers "emotional distress" will become class E felonies. Schools will be required to report harassment, along with certain other offenses, to local law enforcement, according to legislation passed in 2014, the St. Louis Post-Dispatch reported.
Under Missouri law, harassment "that is repetitive or is substantially likely to be repeated and causes a reasonable student to fear for his or her physical safety or property" is considered to be a form of bullying. "Knowingly" causing "physical injury to another person" will now be third-degree assault ‒ a felony.
Although the law does not specifically mention requirements for schools to report harassment and assault, which has left many districts confused as to how to interpret the new law, according to the Post-Dispatch.
The Hazelwood School District sent a letter to parents explaining how it planned to handle incidents of fighting and bullying before school let out for the holidays.
"[I]f two students are fighting and one child is injured, the student who caused the injury may be charged with a felony. Student(s) who are caught fighting in school, bus or on school grounds may now be charged with a felony (no matter the age or grade level), if this assault is witnessed by one of the School Resource Officers/police officers (SRO) or if the SRO/local law enforcement officials have to intervene," the letter said.
Ferguson-Florissant Superintendent Joseph Davis warned that a simple schoolyard spat could have lifelong consequences for students in a video announcement about the new law.
"A simple fight may follow you for the rest of your life," Davis said. "You have the power to decide you have a good future full of hope and promise or a future with a criminal record that follows you and limits your options."
Administrators across the state are imploring parents to stress to their kids the importance of peacefully resolving differences among students.
"I would definitely speak with them and talk with them and let them know just a fist fight anymore could definitely mean a felony," Sikeston Department of Public Safety Sergeant Jon Broom told KFVS. "Something that could follow you on down the road and could make life difficult for you."
Critics have decried the potential impact on students, arguing that Missouri is criminalizing children's behavior and enlarging the so-called "school-to-prison pipeline," which disproportionately affects minority children.
"I think that we are working very hard to stop the school-to-prison pipeline, and I think this might inadvertently increase the number of children who are referred to law enforcement," Kelli Hopkins, a Missouri School Boards' Association attorney, told the Post-Dispatch.
"By enacting their draconian new rules, the state of Missouri is completely ignoring science, instead, falling back on uniformed state agents with badges and guns – trained to confront the worst of society – to deal with misbehaving kids in school," Justin Gardner wrote for the Free Thought Project. "Missouri is ignoring the proven benefits of 'restorative justice'."
St. Louis Public Schools (SLPS) is "very cognizant of the school-to-prison pipeline," and will meet with its attorneys to discuss the new law and how the district will enact it, spokesman Patrick Wallace told CBS News. "We want to support children, not punish them at any opportunity that arises."
SLPS does not currently have law enforcement officers in schools. The district also amended its practices this year so that it no longer suspends children below the third grade. SLPS will likely continue with its current model of discipline and only call police "if we think they should be involved," Wallace said.
"I can't see us reporting a six-year-old," he added.
The new law does not make exceptions based on age.
You can share this story on social media: