Man charged in 'Vote Trump' church arson member of congregation
Published time: 22 Dec, 2016 04:58
Edited time: 22 Dec, 2016 14:01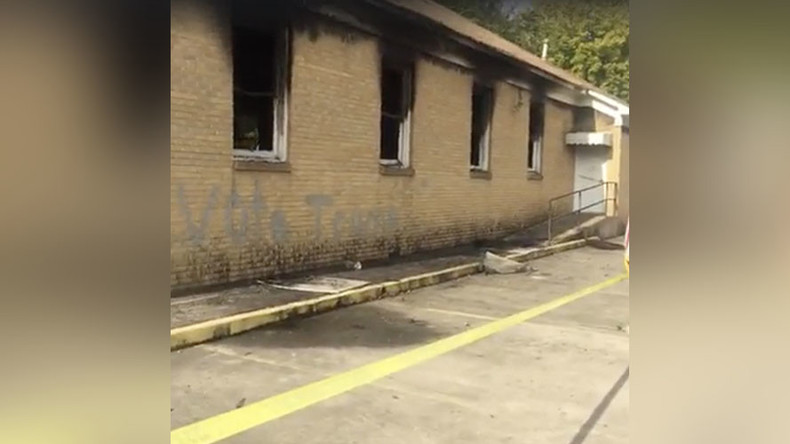 The burning down and "Vote Trump" vandalism of Hopewell Missionary Baptist Church in Greenville, Mississippi, was allegedly carried out by one of the church's own. Andrew McClinton is charged with the arson took place just days before the presidential election.
McClinton, 45, was arrested Wednesday and is being held in the Washington County Detention Center awaiting his initial appearance in court on Thursday in Greenville. He is being charged with first-degree arson of a place of worship.
No one was harmed in the fire.
The church's bishop, Clarence Green, told reporters that McClinton was a member of the congregation, which accommodates around 200 members.
McClinton faces a minimum of five to 30 years in prison if he is found guilty.
The state fire marshal and investigators have said that they do not have any evidence that the fire was politically motivated, or that McClinton was responsible for the graffiti.
"We do not believe it was politically motivated," Mississippi Insurance Commissioner Mike Chaney said. "There may have been some efforts to make it appear politically motivated."
Kenya Collins, a spokesperson for the city of Greenville, reiterated that McClinton was not currently being charged with a hate crime.
"The charges that he received today, it was not a hate crime but we do not know if the federal government will pursue that as such because we do not have a motive yet," she said.
President-elect Donald Trump won Mississippi, but Hillary Clinton received more than twice the votes from the city in which the church is located – 11,380 for Clinton to 5,244 for Trump.
The effects of the fire are so severe that Greenville Fire Chief Ruben Brown called it a "total loss." The 111-year-old church will likely have to be torn down and rebuilt.
"I can't entertain the stuff that was painted on the building, even though I know it was from someone else's hate," bishop Green said. "I can't lower myself to somebody else's hate."