'Faithless' electors rejected or forced to vote along party lines for Clinton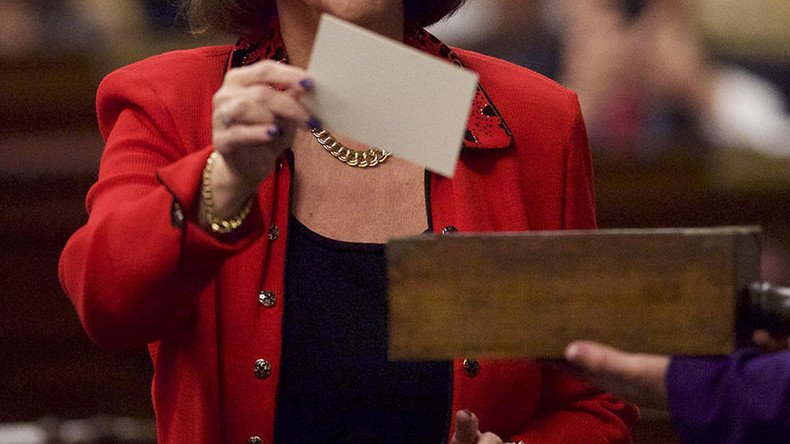 As Electoral College voting for the president is underway, electors tried to dodge the party line. A Minnesota elector was replaced, four Washington State voters chose other candidates than Clinton, and a Maine elector cast for Senator Bernie Sanders.
"I cast my vote for Bernie Sanders not out of spite, or malice, or anger, or as an act of civil disobedience. I mean no disrespect to our nominee," David Bright, a Maine Democratic elector, wrote in a statement posted on Facebook prior to casting his vote for Sanders during the Electoral College vote on Monday.

"I cast my vote to represent thousands of Democratic Maine voters — many less than a third my age — who came into Maine politics for the first time this year because of Bernie Sanders," he added.
Bright's vote was ruled out of order by the Electoral College president, and he recast it for Clinton.
Bright would have cast his vote for Clinton if it could have helped the Democratic nominee win the White House, he said, adding that he saw "no likelihood of 38 Republican electors defecting from their party and casting their ballots for Secretary Clinton."
In Maine, Clinton was expected to get three of the state's four electoral votes, with the other one going to Trump, who won the state's 2nd Congressional District.
Overall, 538 electors are gathering in statehouses nationwide to vote for president. There is no federal law that requires electors to vote according to the results in their states. However, 29 states prohibit "faithless" voting.
Currently, 306 electors are pledged to Republican Donald Trump, and 232 are pledged to Clinton, the Democratic presidential candidate.
In Minnesota, Muhammad Abdurrahman was declared a "faithless" elector.
The content of his vote was not discussed, and an alternate was substituted. Abdurrahman, however, was a Sanders delegate to the Democratic National Committee.
Later Abdurrahman told reporters he voted for Sanders and Representative Tulsi Gabbard (D-Hawaii).
In Texas, 36 out of 38 electors voted for Trump, with Ohio Governor John Kasich and former Texas Congressman Ron Paul each garnering one from two "faithless" electors.
A Texas elections official said four of the state's presidential electiors will be replaced.
The Texas Secretary of State spokeswoman Alicia Pierce told the AP three electors were disqualified for having federal government jobs. The fourth elector resigned after expressing concern about Trump's presidential qualifications.
There are 38 presidential electors in the state.
In Washington State, four of the state's 12 electors refused to vote for presidential nominee Hillary Clinton.
Three of the state's 12 electors voted instead for former Secretary of State Colin Powell, and one voted for Faith Spotted Eagle, a Sioux tribe elder who has led protests against the Dakota Access Pipeline in North Dakota.
Clinton was allotted all 12 of the state's electoral votes on Election Day, when she beat Donald Trump with 54 percent of the vote.
For vice president, Clinton's running mate Virginia Senator Tim Kaine received eight votes, and Senator Elizabeth Warren (Massachusetts), Senator Maria Cantwell (Washington) and environmentalist Winona LaDuke each received one vote.
One other Democrat in the state of Colorado tried to cast their vote for someone other than Clinton but were barred due to state laws and replaced.
You can share this story on social media: