Ex-NYPD chief to stand trial in Occupy Wall Street police brutality case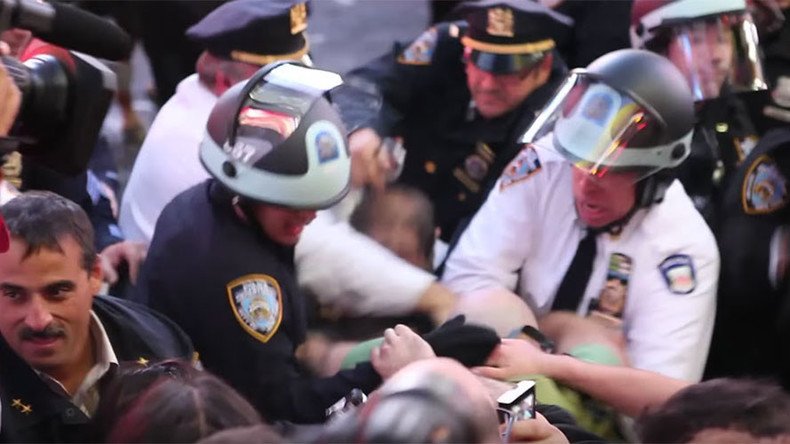 Former New York Police Department Chief and current commissioner of the Office of Emergency Management Joseph Esposito will stand trial for police brutality and malicious prosecution related to the arrest of an Occupy Wall Street protester.
John Scott Dekuyper, 58, was arrested at an Occupy Wall Street protest in Times Square in October 2011. While he was only one of 92 people arrested in Times Square, video footage taken at the scene depicted an officer repeatedly punching Dekuyper in the head. Now over five years later, a judge has granted Dekuyper permission to file a civil rights suit against Esposito and two officers involved, Shreeganes Meade and Patrick Mullane.
According to Dekuyper's attorney, the conflict began when he joined an Occupy Wall Street march from Manhattan's Lower East Side up to Times Square. Once the participants reached the tourist hub, a messy melee broke out between protesters and law enforcement. Esposito, who was acting NYPD chief, responded and attempted to corral the crowds by blocking the protesters off with barriers and ordering police horses to go into the crowds.
According to Esposito's depositions, Dekuyper was on the barrier "being loud, boisterous" and "trying to get through the barrier by pushing it out of the way, by lifting it, by throwing it at the police, pushing it toward the pole, and throwing toward the police."
However, earlier in his deposition, Esposito claimed he did not recall seeing the barricade move when Dekuyper's hands were on it and initially couldn't recall if the barricades moved more than an inch, but then claimed it moved "a foot or two."
In addition, Esposito admitted that he never saw Dekuyper go through the police barricades prior to his arrest.
Esposito also claims that when he confronted Dekuyper, he attempted to grab Esposito's shield off of his shirt. "He actually grabbed hold of the shield," Esposito said, "but I was able to maintain control of it and that's when he was actually rescued, if you want to call it that, by the other demonstrators who pulled him back into the crowd."
This was the first of two altercations between the men, according to Esposito's testimony. His version of events has a second interaction with Dekuyper when the protester returned and grabbed the barrier and attempted to throw it again, leading to Dekuyper's arrest.
Naturally, Dekuyper's version is incredibly different and has a video to support him. Dekuyper denies trying to grab Esposito's shield at all and heard no commands or warnings from the police, but he did say that he "may have screamed at police" or moved his arms while yelling at the police.
Dekuyper was filmed moving his arms as he yelled at the police, but Officer Shreeganes Meade was filmed responding by reaching over, removing Dekuyper's hat and punching him in the head six times. During the course of the beating, Dekuyper is seen grabbing the barricade with one hand and trying to push Meade back after the first punch.
However, Meade claimed in his deposition that punching Dekuyper's head like a speedbag was justified because Dekuyper had assaulted him, saying, "It is on video clearly." Meade may be referring to 0:43 in the video, where Dekuyper is seen moving his hand over the barricade towards Meade's left shoulder. It is unclear whether Dekuyper actually makes contact with Meade, as his upper body does not appear to move from any touch, but Meade does then take a step back.
While Meade never filed charges against Dekuyper, he claimed that he notified "numerous superiors" about the incident, but failed to name one during the deposition. In addition, about eight seconds pass between Dekuyper allegedly pushing Meade and Meade first removing the beanie on Dekuyper's head before punching him with a closed fist.
According to Dekuyper's attorney Gideon Oliver, Dekuyper was further beaten after being handcuffed. He later lost consciousness and was diagnosed with a concussion. While in custody, Dekuyper claims that Officer Mullane had booked him and denied access to Synthroid, a medication he requires as a result of treatment for stage 4 cancer treatment that was kept in the backpack he was wearing while arrested.
An attempt to prosecute Dekuyper for second degree obstruction of governmental administration fell apart in 2013 after the Manhattan District Attorney's office moved to dismiss the charges after Esposito told prosecutors that the statements used against Dekuyper were "inconsistent," "inaccurate," "not true" and "should have been corrected," according to documents from the Manhattan district attorney.
Dekuyper's lawsuit against Esposito, Meade and Mullane has been given the go-ahead and will go to trial in March if a settlement is not reached beforehand.
You can share this story on social media: