'He's so bad': Trump slams 'foolish' White House Press Secretary Josh Earnest (VIDEO)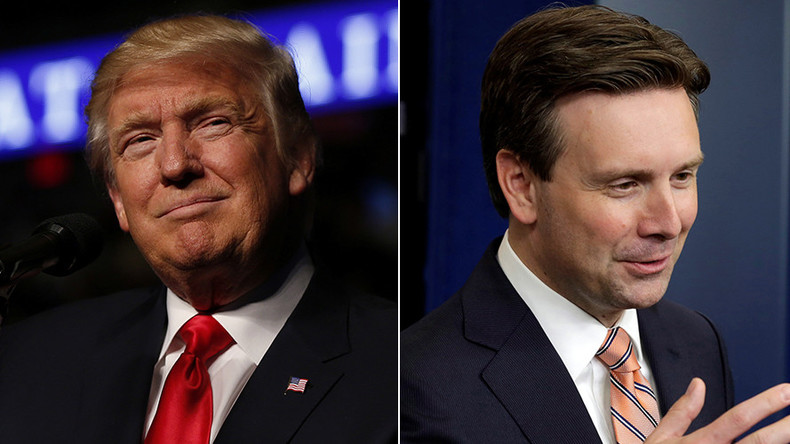 White House Press Secretary Josh Earnest has had a tough week. Just days after a press briefing blunder, Donald Trump has now slammed Earnest, calling him a "foolish guy" who makes everything "sound bad."
The president-elect made the comments on Thursday during an appearance in Hershey, Pennsylvania as part of his 'Thank You' tour.
"This foolish guy Josh Earnest, I don't know if he's talking to President Obama. You know, having the right press secretary is so important because he is so bad, the way he delivers a message," Trump told his supporters, complimenting them on how they were "laid-back" now they have won the election.
Trump criticized Earnest for his inability to deliver a positive message without making it "sound bad."
"He could say 'ladies and gentlemen today we have defeated ISIS' and it would still sound bad," Trump said, adding that "I have a feeling they won't be saying it but I know we will be saying it."
READ MORE: Vanity Un-Fair? Trump attacks magazine over review of his restaurant
Earnest has served as White House press secretary since 2014, replacing Jay Carney.
Earlier this week, Earnest made a blunder during a press briefing, claiming China was in fact responsible for the hacking of the Democratic National Committee. A slip of the tongue that differed from the repeated accusations of Russian involvement.
During Trump's Pennsylvania speech, he also reiterated his intention to build a wall between the US and Mexico, saying "We're gonna build the wall, don't worry about it."