Flint water crisis cover-ups exposed: Erin Brockovich on 1st episode of 'America's Lawyer'
Published time: 13 Dec, 2016 23:30
Edited time: 14 Dec, 2016 17:07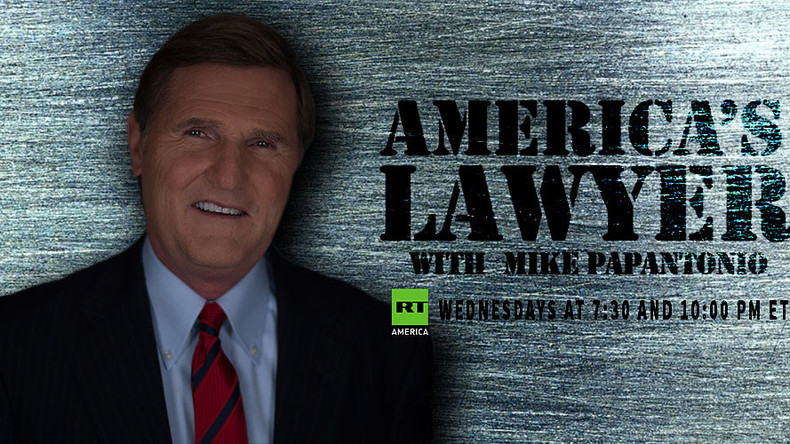 Legendary trial lawyer Mike Papantonio's new show "America's Lawyer" on RT America will kick off with acclaimed environmental activist Erin Brockovich. They talk about Flint water crisis and how environmental disasters are dealt with in the US.
The focus of the first episode will be the ongoing and often ignored water crisis in Flint, Michigan, which has had "undrinkable" water for more than 400 days due to widespread lead contamination. In fact, an estimated 12,000 children have been poisoned by the water after Flint city officials switched the source of Flint's drinking water from the Detroit River to cut down on spending.
"Flint showed us something that we've known that we don't like to talk about very often, and that is cover-ups within state and local agencies," Brockovich says.
Brockovich was met with widespread recognition for exposing groundwater contamination from a natural gas compressor station in Hinkley, California, that was giving its residents cancer. Brockovich and the law firm she worked for won a $333 million class action case against the company behind the facility, the largest settlement for such a lawsuit in US history. More recently, she helped spearhead the movement to hold Flint accountable for the poisoning of its residents with advocacy on social media and on-the-ground support, and is credited with helping to spark President Obama's declaration of a state of emergency in January.
But as a US-based environmentalist focusing on groundwater contamination, Brockovich has her work cut out for her. "We have about 110 sites that are as bad, if not worse, than Flint, we're trying to deal with now," she tells Papantonio. "I'm known to say a lot of hard things about the EPA, and there are some really good people inside that agency, but that system is broke. They are not where they're supposed to be. They don't have enforcement, they're overburdened, they're underfunded. They've been neutered."
Catch more about Brockovich's work in Flint and other places of environmental disasters in the US on RT on December 14.
The weekly show, "America's Lawyer," "will tell the stories nobody else would have the chance to hear about" due to corporate-controlled media and will "interview lawyers handling the cases," Papantonio said.
Each episode will also feature a short legal brief meant to keep you informed on the stories missed by the mainstream media as well as interviews with attorneys involved in major litigations and important media figures. And finally, Papantonio will present a legal victory to viewers showing the positive side of law, from wins for workers' rights to groundbreaking environmental cases.
"America's Lawyer" premieres on RT on December 14, 2016 at 7:30pm EST and re-airs at 10:00pm EST as well as Sundays at 4:30pm and 8:30pm EST.