'Stain on our nation': Attorney General Lynch condemns 'disturbing' rise of anti-Muslim hate crimes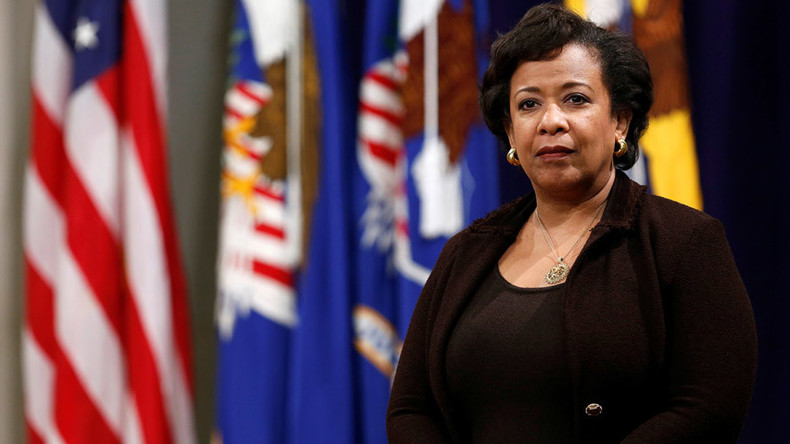 US Attorney General Loretta Lynch said "much more work remains to be done" to combat the rise of anti-Muslim hate crime in the US.
Lynch, who is the first African-American woman to hold the position of US attorney general, was speaking at a news conference with interfaith leaders at the All Dulles Area Muslim Society Center in Sterling, Virginia on Monday.
"Hate crimes target more than just the individual at that time – they target the fabric of our communities, they are also a stain on our nation's very soul," Lynch said.
Referring to FBI figures which showed a rise of anti-Muslim hate crimes between 2014 and 2015, Lynch said the "disturbing trend" was a "sobering indication of how much more work remains to be done."
READ MORE: Hate crimes against Muslims in US increased 67% last year – FBI
"This is the highest total of anti-Muslim incidents since 2001," she continued, referencing the 9/11 attacks.
"All of us have seen the recent flurry of news reports about hate crimes and harassment," she said. "We have seen the stories where hijabs have been yanked off women's heads - literally off women's heads."
Hate crimes against minorities increased dramatically in the 10 days following Trump's winning of the US elections, according to the Southern Poverty Law Center which said, "Muslim women wearing hijabs have been particularly vulnerable to threats and assault," in its analysis.
In her speech, Lynch urged Americans to report hate crimes because "when one of us falls, we all have to step up without regard for our own safety. When one of us is threatened, we all have to speak out."
Combating hate crimes is not just about enforcing the law. It's about staying true to our highest ideals and most cherished principles. https://t.co/61WNLTn2jn

— AG Loretta Lynch (@LorettaLynch) November 18, 2016
Faith leaders at the event also spoke about religious freedom, with Imam Mohamed Magid of the Dulles Islamic center outlining how protecting those wishing to freely practice their faith is "an American issue."
"Protecting religious freedom is not a Democratic issue or Republican issue," Magid told the audience. "It is not a right-wing or a left-wing issue. It is an American issue."
Senior pastor of Northwood Church in Texas, Reverend Bob Roberts, backed Magid's comments, adding that: "It's time for all of us Americans to stand up in this time."
The attorney general highlighted several measures being taken by the Department of Justice to tackle hate crimes, including partnering with local law enforcement agencies and using classroom religious tolerance initiatives to educate young people on the issue of acceptance.