Hate crimes against Muslims in US increased 67% last year – FBI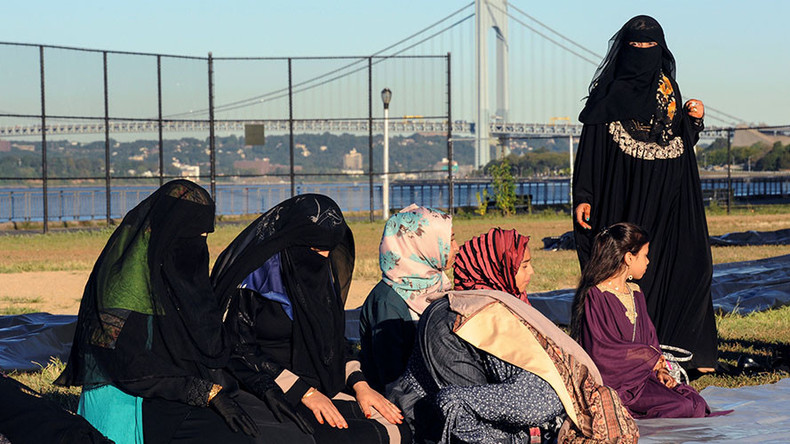 Hate crime rates in America rose nearly 7 percent overall in 2015, but it was the targeting of Muslims that skyrocketed, with a 67 percent hike, according to the FBI.
Hate crimes grew 6.8 percent last year, with a total of 5,850 cases reported to police last year, according to the FBI in its latest Uniform Crime Report. In 2014, there were 5,479 incidents.
The new statistics in a snapshot show increases in attacks on gay men, up 10 percent; on blacks, up 7.6 percent; on whites, up 3 percent. The states with the highest incidents of hate crime were California, New York and Massachusetts.
Many times a hate crime case involves multiple offenses and victims. Out of the 5,850 cases in 2015, there were 6,837 offenses, and they involved 7,121 victims.
The FBI's analysis shows 56.9 percent of the cases were motivated by race, ethnicity and ancestry bias, while 19.8 percent were motivated by religious bias.
Hate crimes perpetrated against Muslims grew from 154 incidents in 2014 up to 257 incidents in 2015, according to the data. But crimes involving anti-Jewish bias were still at the top of religious bias crimes, accounting for 664 cases, up from 609.
Under the category of hate crimes predicated on sexual orientation, 62.2 percent were against gay men and boys, with 664 cases involving 786 victims, a 10 percent growth from 2014, when there were 599 cases.
No matter the motivation, all hate crimes fell into one of three broader categories, whether attacks targeted persons, property or society. Persons, making up 4,482 cases, was the largest of the three. In that category, 41.3 percent were crimes involving intimidation, 37.8 percent were assault and 19.7 were aggravated assault, while 0.7 percent consisted of 18 murders and 13 rapes.
The data was compiled from voluntary reporting by nearly 15,000 law enforcement agencies. In 2015, 1,742 agencies submitted hate crime reports.
The states with the highest incidents of reported hate crimes were California (837), New York (500), Massachusetts (411), New Jersey (330) and Michigan (309). The states with the lowest number of reports were Arkansas (5), Iowa (6) and Vermont (8).
The data shows the majority of offenders were 48.4 percent white and 24.3 percent black, 16.2 percent were unknown, and 9.1 percent of the crimes were carried out by groups.
The Southern Poverty Law Center, a nonprofit that monitors domestic hate groups and other extremists, said there were 892 active hate groups last year. The list was dominated by the Ku Klux Klan (190) and black separatists (180).
"Only organizations known to be active in 2015, whether that activity included marches, rallies, speeches, meetings, leafleting, publishing literature or criminal acts, among other activities, were counted in the listing," the SPLC told Politico. "Entities that appear to exist only in cyberspace are not included because they are likely to be individual web publishers who likely to falsely portray themselves as powerful, organized [g]roups."
You can share this story on social media: