#PardonSnowden: Privacy advocates shine messages of support on Washington landmark (VIDEO)
Published time: 11 Dec, 2016 19:55
Edited time: 13 Dec, 2016 13:42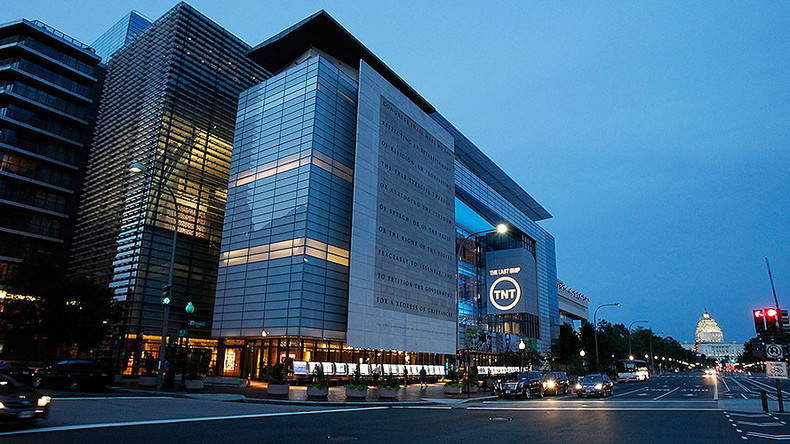 Privacy advocates have staged a guerrilla demonstration in support of Edward Snowden in Washington to express their gratitude for his efforts to expose increasingly invasive surveillance tactics, calling for a US government pardon.
As part International Human Rights Day on Saturday, a campaign group called Pardon Snowden projected messages of support for US whistleblower onto the facade of the Newseum building, Pennsylvania Avenue.
The Newseum, the front of which is etched with lines from the First Amendment, promotes freedom of expression through galleries and workshops.
According to a Pardon Snowden statement, the political action lasted 40 minutes and was "unauthorized".
READ MORE: British spies monitor Israeli diplomats, with help from US and Jordan – Snowden docs reveal

Snowden faces charges of espionage if he ever returns of the US after leaking National Security Agency information detailing the extent of US global surveillance.
While the man credited with shaking up privacy awareness may not be planning to return home any time soon, a number of his supporters let it be known they were thinking of him on International Human Rights Day.
"Thank you for the exceptional sacrifice you made," read a message from a person named Dani.
"I hope and pray you get home and continue to serve conscientiously for the citizens of this modern world."
Another supporter said that he felt shamed for doing enough to protect against government interference.
"Edward's outstanding example of personal sacrifice shames me for not having done more to stop governmental inroads into our everyday lives. It is with deepest admiration that I say 'Thank you' son, well done."
READ MORE: Snowden: Ex-CIA Director Petraeus 'shared far more classified info than I ever did'

Pardon Snowden count Apple co-founder Steve Wozniak, Twitter's Jack Dorsey and former Guardian editor-in-chief Alan Rusbridger among its supporters.
"These expressions of support for Snowden celebrate his decision to shed light on a surveillance apparatus so invasive and bloated with secrets that it became a risk to democratic accountability," Pardon Snowden said.
"Thanks to his act of conscience, we're seen historic reforms and Pulitzer Prize-winning," the group added.