Bernie Sanders congratulates union leader at center of Trump twitterstorm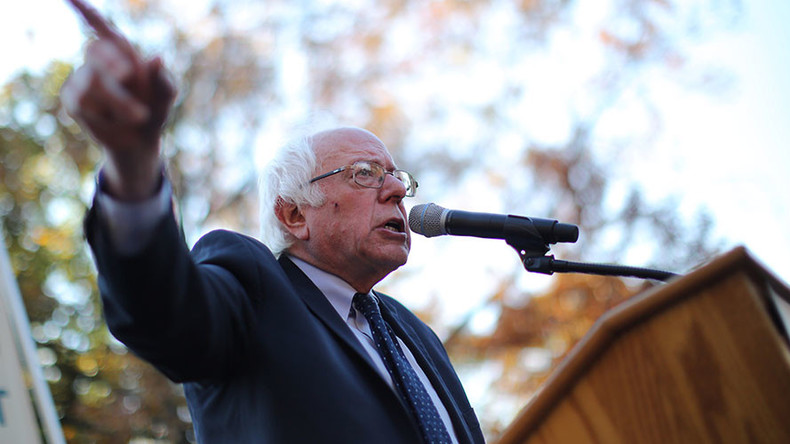 Former Democratic presidential candidate Bernie Sanders has congratulated local union president Chuck Jones for becoming "the most famous labor leader in America" after he was publicly criticized by President-elect Donald Trump.
The Vermont Senator phoned Jones, who represents steelworkers at air-conditioner manufacturer Carrier, in the wake of the union leader becoming embroiled in a war of words with the president-elect over job losses at Carrier's plant in Indiana.
The row kicked off when Jones alleged that Trump lied about the number of jobs he saved at the plant. "He got up there and for whatever reason, lied his a** off," he told The Washington Post.
Trump hit back on Twitter with a couple of tweets, which generated over 150,000 reactions, that lambasted Jones for doing "a terrible job."
Chuck Jones, who is President of United Steelworkers 1999, has done a terrible job representing workers. No wonder companies flee country!

— Donald J. Trump (@realDonaldTrump) December 8, 2016
"If United Steelworkers 1999 was any good, they would have kept those jobs in Indiana. Spend more time working-less time talking. Reduce dues," the president-elect said.
Sanders also waded into the debate on Twitter, hitting back at Trump for the tweets.
"Well you know, if I did something to piss off President-elect Trump, so be it," Jones said to Sanders in the phone call, according to CBS. The pair reportedly spoke for around three minutes and pledged to work together in the future.
"What we are going to do is we are going to remind Mr. Trump of what he said," Sanders said. "But, believe me, we are going to do everything we can to make sure he follows through on the promises to made to the people in Indiana and to the people in America."
"For whatever reason you guys have become, in a sense, the symbol of outsourcing in America … the world has focused on you guys and we've got to be effective in fighting back."
Sanders, who is now one of the most high profile and powerful politicians in the Democrat party, has been throwing his support behind labor unions as concerns persist over Trumps' plans to save US jobs. Even though Sanders said that he is prepared to work with Trump to save jobs he also was very critical of the president-elect.