Sanders, Ellison, Glover lead 'Good Jobs Nation' rally in DC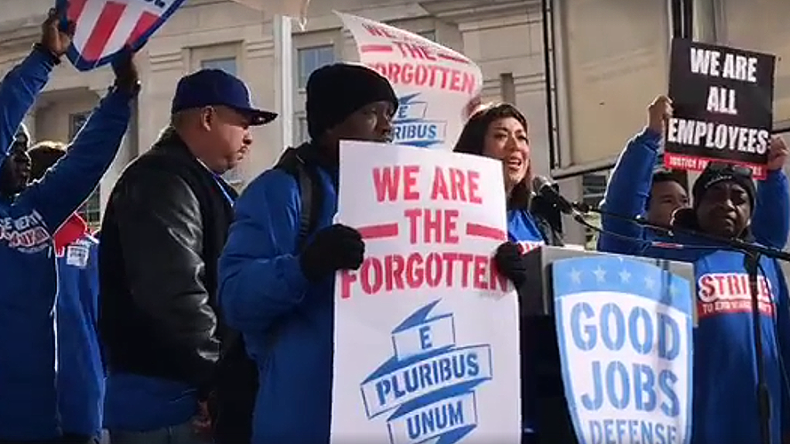 Democrats are calling for pressure to be piled on President-elect Donald Trump to ensure he keeps his promises about good jobs for all Americans, after a report said that federal contractors cheat workers of $2.5 billion in wages a year.
Bernie Sanders, who sought the Democratic presidential nomination but lost to establishment candidate Hillary Clinton, headlined the "Good Jobs Nation" rally on Wednesday in Washington, DC. The Vermont senator vowed to continue fighting for a $15 hourly minimum wage and other planks of his program under a Trump presidency.
The crowd assembled at Freedom Plaza on Pennsylvania Avenue, just three blocks from the White House and in full sight of Trump's newest DC hotel.
Among the speakers was Representative Keith Ellison (D-Minnesota), whom Sanders is backing in the bid to chair the Democratic National Committee. Ellison announced on Wednesday that he would resign his House seat if elected, addressing the objections from the DNC establishment about wanting a "full-time" chair after this year's electoral defeats.
Florida Congresswoman Debbie Wasserman Schultz chaired the party until July, when she resigned in the wake of a scandal over leaked emails that showed DNC officials colluded to favor Clinton over Sanders. Interim chair Donna Brazile resigned from CNN after WikiLeaks revealed she provided Clinton debate questions in advance.
Several other Democratic lawmakers were at the rally, including Mark Pocan (D-Wisconsin) and Jan Schakowsky (D-Illinois).
Actor and activist Danny Glover – an outspoken Sanders supporter during the primaries – was also in attendance.
"We have to build a movement for real change in this country," Glover told RT. Though he accepted the result of the election, he said that Trump's "venom and hatred" posed a danger to the fabric of democracy in America and the country's diversity.
"We're going to continue to work, to build, to organize, to strengthen ourselves, and to find every way which we can… to do the things we have to do," Glover said.
Responding to charges of anti-Semitism leveled at both him and Ellison over their criticism of Israel, Glover said that they were both peaceful people seeking the fair treatment of Palestinians.
"We see destruction all over the Middle East," Glover said, listing the wars in Lebanon, Libya, Iraq, Afghanistan and Syria, along with the long-running Israeli-Palestinian conflict. "Let's stand up right now and talk about those issues. Let's not hide behind the rhetoric."
"We have to have some truth. God knows we have to have some truth here," Glover said.
The rally's organizers cited the new report from the liberal think-tank Demos, which claimed that workers employed by federal contractors were shorted up to $2.5 billion in wages every year just through violations of minimum wage laws.
Authored by Amy Traub, the report is a follow-up of Traub's 2013 study showing that government contractors employed almost two million underpaid workers, "more than the number of low-wage workers at Walmart and McDonalds combined."
Demos is currently chaired by Heather McGhee, and its Board Chair is Amelia Warren Tyagi, daughter of Senator Elizabeth Warren (D-Massachusetts). One of its founders in 2000 was Barack Obama, then a state senator in Illinois.
You can share this story on social media: