Washington Post admits article on 'Russian propaganda' & 'fake news' based on sham research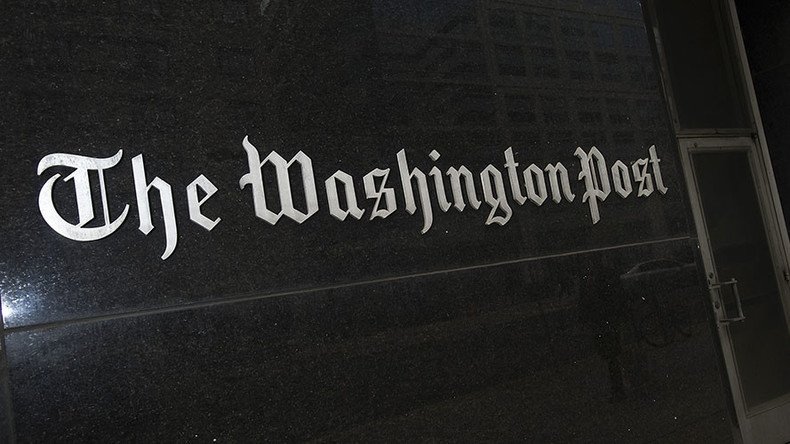 Facing threats of legal action, the Washington Post has been forced to add an editor's note distancing the paper from a dubious website, PropOrNot, which it had initially endorsed as a group of nonpartisan experts on "Russian propaganda."
The Post came under fire on social media for its provocative hit piece which claimed that "Russia's increasingly sophisticated propaganda campaign" actually influenced the US presidential election.
The article, published late last month, referenced "independent researchers" who allegedly determined that Russian state media, RT and Sputnik News among them, produced "misleading articles online with the goal of punishing Democrat Hillary Clinton, helping Republican Donald Trump and undermining faith in American democracy."
One of the main sources cited by the Post was PropOrNot, "an independent team of concerned American citizens" who, according to the site's description, are "volunteering time and skills to identify propaganda – particularly Russian propaganda – targeting a US audience."
After the publication of its evidence-free article, the newspaper was sent a letter from one of the websites listed, threatening a defamation lawsuit.
"We have another post today that describes how the few things that are verifiable on the PropOrNot site don't pan out, as in the organization is not simply a group of inept propagandists but also appears to deal solely in fabrications," Naked Capitalism – a US blog on finance, economics and politics – said on its website.
"If the site is flagrantly false with respect to things that can be checked, why pray tell did the Washington Post and its fellow useful idiots in the mainstream media validate and amplify its message? Strong claims demand strong proofs, yet the Post appeared content to give a megaphone to people who make stuff up with abandon. No wonder the members of PropOrNot hide as much as they can about what they are up to; more transparency would expose their work to be a tissue of lies."
Jim Moody, an attorney representing the website, stressed in a letter to the Washington Post on Sunday that the newspaper "did not provide even a single example of 'fake news' allegedly distributed or promoted by Naked Capitalism or indeed any of the 200 sites on the PropOrNot blacklist."
Award-winning journalist Glenn Greenwald, significant in bringing Edward Snowden's US security revelations to the public, labeled the Post story"total journalistic garbage."

"More troubling still, PropOrNot listed numerous organizations on its website as 'allied' with it, yet many of these claimed 'allies' told The Intercept, and complained on social media, they have nothing to do with the group and had never even heard of it before the Post published its story," Greenwald wrote in response to the article.
In his article, the Post's Craig Timberg did not initially include a link to PropOrNot's website. "If readers had the opportunity to visit the site, it would have become instantly apparent that this group of ostensible experts far more resembles amateur peddlers of primitive, shallow propagandistic clichés than serious, substantive analysis and expertise; that it has a blatant, demonstrable bias in promoting NATO's narrative about the world; and that it is engaging in extremely dubious McCarthyite tactics about a wide range of critics and dissenters," Greenwald noted.
A link to PropOrNot's report is now featured under an 'update.'
Following a storm of negative comments on social media, with many accusing the newspaper of "crazy lies," saying the Post is actually the "real propaganda peddler," the dubious article was appended.
"The Washington Post on Nov. 24 published a story on the work of four sets of researchers who have examined what they say are Russian propaganda efforts to undermine American democracy and interests. One of them was PropOrNot, a group that insists on public anonymity, which issued a report identifying more than 200 websites that, in its view, wittingly or unwittingly published or echoed Russian propaganda. A number of those sites have objected to being included on PropOrNot's list, and some of the sites, as well as others not on the list, have publicly challenged the group's methodology and conclusions.
The Post, which did not name any of the sites, does not itself vouch for the validity of PropOrNot's findings regarding any individual media outlet, nor did the article purport to do so. Since publication of The Post's story, PropOrNot has removed some sites from its list," the paper said.
Less than a week after the Post published the article, the US House of Representatives passed an intelligence authorization bill containing a provision aimed at tackling what Washington claims is political interference by Russia on a global level.
The 93-page HR 6393 – passed by the House in a 390-30 vote on November 30 – calls for the establishment of a new, interagency panel designed to suppress Russia's alleged attempts to "exert covert influence over peoples and governments." The panel would be tasked with "countering active measures by Russia to exert covert influence, including exposing falsehoods, agents of influence, corruption, human rights abuses, terrorism and assassinations carried out by the security services or political elites of the Russian Federation or their proxies," the draft legislation goes on to say.
You can share this story on social media: