Oklahoma residents sue energy companies over fracking quakes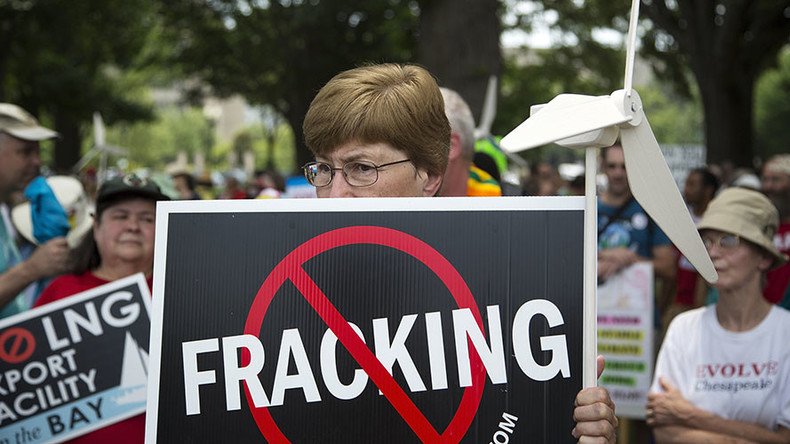 A group of Payne County residents has filed a class-action lawsuit against five energy companies over the recent earthquakes in Cushing, a city in central Oklahoma. The companies have fracking disposal wells in the area.
Hydraulic fracturing, or fracking, is a process of extracting oil and gas by injecting pressurized water, sand and chemicals into layers of rock. Waste water from the process is then poured into underground wells.
A 5.0 magnitude earthquake struck Cushing on November 6, damaging over 40 buildings. A month later, a series of five quakes struck the area again, with Cushing registering a 3.6 magnitude temblor and the strongest one coming in at 3.9 magnitude in Pawnee to the north.
Among the buildings damaged in the November 6 quake were the offices of the Cushing Citizen newspaper, owned by David and Myra Reid. The Reids have now filed a class action lawsuit along with Cushing residents Valerie Branyan and Timothy Harris, asking for $10,000 for property damages, punitive damages and emotional distress, reports the Oklahoman.
"While powerful earthquakes have become a regular part of life for many Oklahomans in recent years, that does not mean we should sit back and accept them as the new norm," said Curt Marshall, an attorney at Weitz & Luxenberg, one of the firms representing the plaintiffs.
Oklahoma has seen a marked increase in earthquakes since fracking operations began, going from only three quakes of magnitude 3.0 and higher in 2009 to 907 in 2015.
Companies named in the lawsuit are White Star Petroleum LLC, Crown Energy Co., PetroWarrior LLC, FHA Investments LLC, and Cher Oil Co. Limited.
White Star's water disposal wells account for 80 percent of the wells in the affected area, with the other companies making up the remainder.
Cushing is a major oil hub in central Oklahoma, about 50 miles west of Tulsa, with a population of around 8,000.
You can share this story on social media: