'It's time now': Chairman of Standing Rock Sioux tribe asks protesters to go home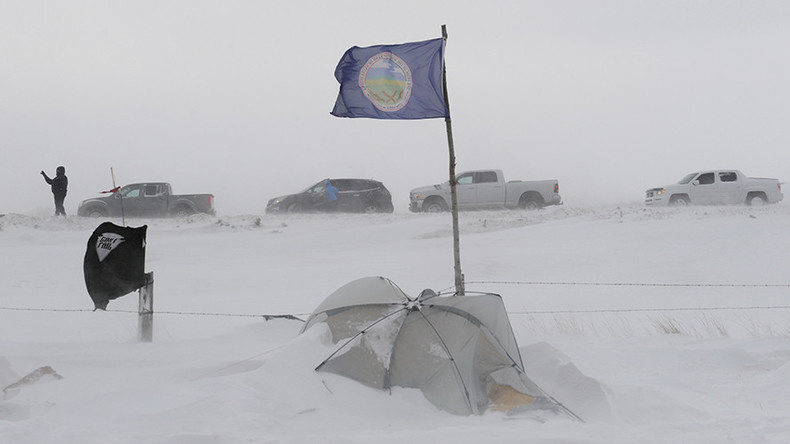 Following the Army Corps of Engineers' decision to pause construction of the Dakotas Access Pipeline, the Standing Rock Sioux chairman is telling demonstrators to go home. But protesters are prepared to weather the winter and have no intention of leaving.
As North Dakota's harsh winter approaches the camps at Standing Rock, chairman Dave Archambault II told the remaining "water protectors" in a video that "it's time to go home."
However, some of the long term protesters at the campsite have rebuffed Archambault's call to leave with one telling the Guardian, "the chairman does not tell us what to do. The chairman is not in charge of the camp."
In his video statement, Archambault applauded the Army Corps of Engineers for halting the construction on the pipeline, but warned that the developers would try to push boundaries and protesters. He said the focus needs to shift to convincing "our governor ... our senators, our congressmen and the Corps of Engineers that you made the right decision."
On behalf of the Standing Rock tribe, he expressed gratitude "for helping us stop this pipeline," adding, "we have a huge victory and we need to celebrate," without putting any protesters in unsafe situations.
However, many of the remaining water protectors are undeterred by both Archambault's words and the harsh weather conditions that are rolling through North Dakota. Cynthia, a volunteer, told RT's Manuel Rapalo that she is not worried about the winter, saying, "if you layer right, you can do good, so I think there's a lot of people who have their semi-permanent movable structures that are heated."
"I'm staying warm in a four season dome tent. We all have pretty much what we need," she added.
Keytha Fixico, another protester, explained to Rapalo that he is not worried about staying, because "a lot of people here now are all banding together to keep each other warm and you know, kindness and community."
The communal attitudes were also important to water protector Mykenah Lott, who said, "it's not scary because you know that there's people here that will help you and keep you warm if you are cold and we're all here together."
But a large reason why so many plan to risk a potential blizzard is a lack of faith in the Army Corps of Engineering. While the Corps issued a statement Sunday saying that they were halting construction on the pipeline, some feel compelled to stay until the deal is guaranteed dead.
Ladonna Brave Bull Allard told the Guardian, "until it's dead, we stand. That doesn't mean put it five miles up the river. That means kill it dead."
Others echoed the feeling that having the pipeline rerouted was not enough. One woman, Xhopakelxhit, was skeptical of the likelihood that the government would follow through on their promise to halt construction, telling the Guardian that Archambault was taking the government's word at face value.
"When has the government ever treated Natives fairly?" she asked.