Wells Fargo requests meeting with Sioux tribe elders to discuss Dakota pipeline funding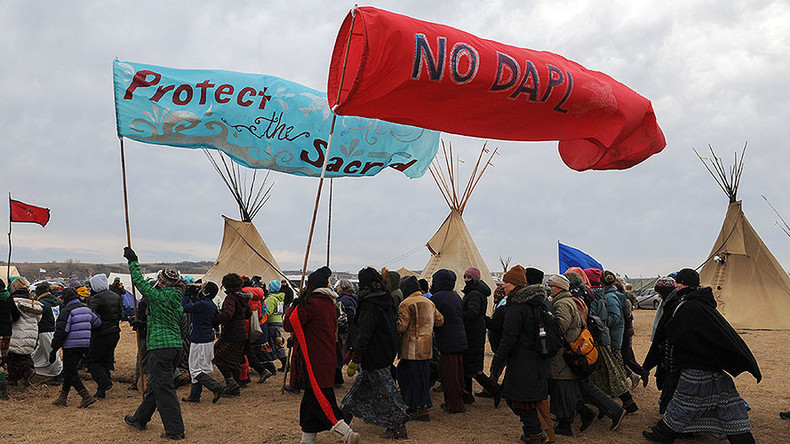 Major US lender Wells Fargo bank asked to meet with tribal leaders from the Standing Rock reservation on the same day that one of its buildings was occupied by Dakota Access Pipeline protesters.
Wells Fargo, which has lent $3.7 billion to finance the crude oil pipeline being built by Energy Transfer Partners, has been the subject of a series of protests this year. Native Indian groups say the project threatens the safety of their water supplies in North Dakota.
READ MORE: 'Get on right side of history': Greenpeace demand banks ditch 'toxic' Dakota pipeline

On Thursday, environmentalist and Indigenous rights activist staged a protest against the 1,172-mile-long pipeline at a Wells Fargo branch in downtown Minneapolis, Minnesota.
According to CBS Local, customers closed their bank accounts at the branch as part of the demonstration organized by Native Lives Matter and climate change group MN350.
Video has emerged showing anti-pipeline activists inside attempting to refuse staff entry to parts of the building.
At one stage, a man was filmed pushing a protester out of the way in the middle of a hallway.
In a letter released by Sacred Stone Camp members, Wells Fargo said that it appreciated the "dialogue" from tribal supporters, stressing that it "deeply" values its relationship with Native American Tribes.
The head of the bank's community relations, Jon R Campbell, has now offered to organize a meeting with Standing Rock leaders to be held before January 1, 2017.
"As a follow up to our previous discussions with the Standing Rock Sioux Tribe, we would be pleased to meet with a select group of tribal elders to discuss their concerns related to Wells Fargo's investment in the Dakota Access Pipeline," the letter read.
A Wells Fargo spokesperson confirmed the authenticity of the document to Reuters, but it is unclear whether a date for the proposed gathering has been set.
The invite follows murmurs that some organizations with interests in the pipeline may be getting worried about the possible negative impact of the controversial oil project on their investments.
The Unitarian Universalist Association has asked Marathon Petroleum, a Dakota Access Pipeline investor in which the church holds 890 shares, to outline how it assessed risks posed by environmental and Indigenous rights.
A letter sent by the church on November 15 revealed that the request was been backed by another shareholder, the New York State Common Retirement Fund.
"The resolution requests that Marathon prepare a report to shareholders, at reasonable cost and omitting proprietary information, that describes the due diligence process used to identify and address social and environmental risks, including Indigenous rights risk, in reviewing potential acquisitions," the document said.