Hundreds of veterans arrive to support Dakota Access protests (PHOTOS, VIDEO)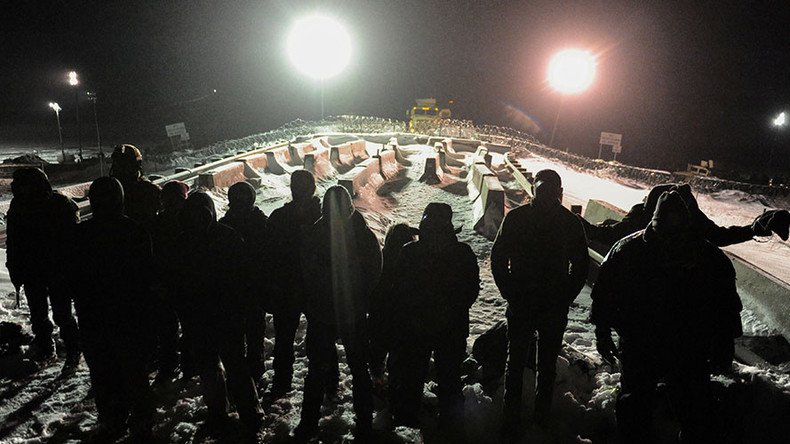 Scores of military veterans have begun arriving to take part in the North Dakota pipeline protest, with hundreds, possibly thousands more expected, including a US congresswoman. 
Members of the group Veterans for Standing Rock, organized on Facebook, have come to support Native American and environmental protesters against the Dakota Access Pipeline. Over 2,000 veterans have pledged their support, with the step coming as law enforcement authorities increase their efforts to crack down on the protest. Hundreds have been arriving at a protest camp on Friday, according to Reuters.
"The militarized police paid for by tax dollars ... is unconstitutional," Ashleigh Jennifer Parker, a former member of the Coast Guard, told USA Today.
"People are being brutalized; concussion grenades are being thrown into crowds. They're spraying people, even old women, and other elders of the tribe with tear gas and pepper spray, and all of this is just unconstitutional. I can't believe the media hasn't taken more of an interest in this."
Mark Sanderson, a former special forces soldier from Texas, told CBC News: "I bled in Iraq and you're going to threaten to shoot me on a bridge in North Dakota?"
A number of veterans have already arrived at the protest camp, including Purple Heart recipient Chris Turley.

Others charted their progress on social media.
Also joining the protest will be Tulsi Gabbard, a Democrat congresswoman from Hawaii who served two tours of duty in Iraq. Gabbard, a lifelong environmental activist, said she wanted to highlight how the proposed pipeline project would affect the supply of drinking water to the Standing Rock Sioux tribe and other local people.
"If my participation in this protest helps send one message, it is this: we must protect our fragile water resources for current and future generations," said Gabbard, as quoted by the Nation.
Other groups of veterans launched solidarity protests around the country, including in Austin, Texas.
Protests first erupted over the Dakota Access Pipeline in April, but received little mainstream media coverage until recent months. Critics of the pipeline say it will cut through indigenous land, including sacred burial sites, as well as threaten the local environment and drinking water.
The Standing Rock protests are said to be the largest gathering of native peoples in modern American history, involving members of 280 tribes. Demonstrators have clashed with police, with water cannon and rubber bullets being deployed against protesters, whom the authorities have accused of rioting.
However, not all veterans have supported their comrades' decision to join the protests. In West Fargo, North Dakota, representatives of the North Dakota Veterans Coordinating Council held a press conference denouncing those who have taken part in the campaign.
"We agree that it is our constitutional right to assemble and to peacefully protest," said Council President Russ Stabler, as quoted by Reuters. "However, protests over the last 100-plus days in North Dakota have been less than peaceful."
"Participating in this kind of assembly even as a peaceful bystander or participant will only mar the image of the North Dakota veterans and the veterans of our nation."
Meanwhile, Morton County Sheriff's Department published a video on Thursday in which they interview a "North Dakota veteran" named Raymond Morell. Morell said that the veterans coming from outside the state "don't understand that relationship that we have," and "are imposing their misunderstandings and quite possibly their disgruntlement with our federal government into a relationship that has been ongoing for generations within the state of North Dakota."
In response to the video, veteran Stephen Handlin told RT: "I don't even know what [Morell's] talking about. The veterans who are coming here are coming here because of the police abusing the citizens. It's Morton County Sheriff. It's not the Feds! They're on our side. That's ridiculous. He's trying to discredit the veterans that are coming here. He's trying to delegitimize them and the federal government is the one being reasonable here."
Handlin says he has met at least 50 other veterans at the Standing Rock camps. "You have guys of all stripes. You have me, who is an agitator. I believe in direct action against machinery. That's prayer in action. Then you have the Veterans for Peace guys who are very passive and want to be organized and are a part of the whole tribal system and meet with all these groups. There's really nothing you can say like 'all veterans are like this,'" Handlin told RT, adding that veterans are less likely to engage in gossip and are more determined to complete "whatever their project is."
Another veteran who spoke with RT anonymously explained that arriving at Standing Rock was how she was able to "spiritually heal" from the Post Traumatic Stress Disorder she sustained overseas.
On Thursday, US President-elect Donald Trump said that he supports the completion of the Dakota Access Pipeline. Despite unproven claims that Trump owns a stake in Energy Transfer Partners, the company building the pipeline, his endorsement "has nothing to do with his personal investments and everything to do with promoting policies that benefit all Americans" read a daily briefing note, as reported by Reuters.
You can share this story on social media: