Dakota Access Pipeline 'akin to cultural genocide' - DAPL activist to RT (VIDEO)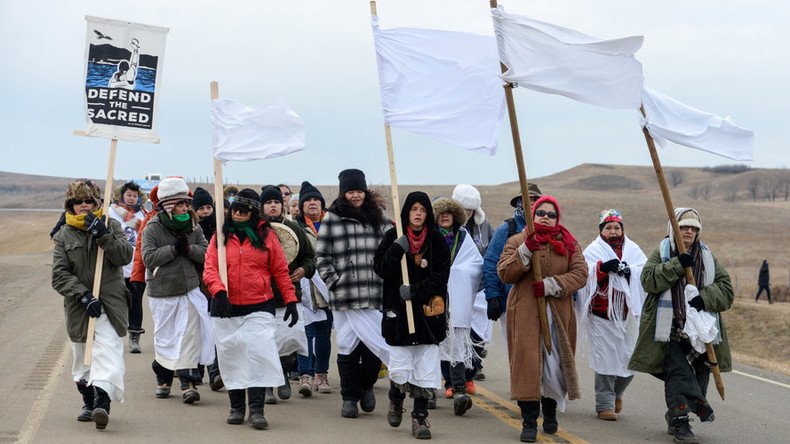 Linda Black Elk, who has treated Standing Rock protesters injured by law enforcement, describes the Dakota Access Pipeline as "cultural genocide" in an RT interview. Vowing not to give up the effort, she calls on President Barack Obama to stand with them.
"The pipeline is actually akin to cultural genocide. They are destroying important plants, eatable and medical plants. They are destroying future restoration sites for plants that the Lakota people use every day in their culture, whether it is for food, medicine or ceremony," Black Elk of the Standing Rock Medic and Healer Council said.
For months, protesters have been asking the White House to stop the construction of the 1,200-mile pipeline and order a full environmental impact statement. Almost a year ago, Obama used his power to veto legislation authorizing construction of the Keystone XL oil pipeline after a final environmental impact statement by the State Department.
"We really ask Obama to demand a full environmental impact statement so that these issues can be addressed properly," she told RT's Ed Schultz. "If we are speaking just simply environmental, there are number of endangered species right within the path of the pipeline that are never even mentioned."
The DAPL protesters celebrated a significant victory as the US Army Corps of Engineers backtracked their pledge to forcibly remove Standing Rock activists from a disputed protest camp by December 5.
"It was indeed a very emotional announcement," Black Elk said, adding that she thinks that "a lot of people took it in stride."
"This is really nothing new to us. As someone else said this has been happening for 500 years, so we are not surprised," she said.
North Dakota Governor Jack Dalrymple (R) has issued an executive order for protesters to evacuate a campsite near the Dakota Access Pipeline over concerns of harsh winter weather and lack of sanitation.
However, even the coming winter storm and heavy snow are not going to shake protesters' resolve, Black Elk vowed.
"We are standing with people of the Standing Rock. We are not leaving, we will stand with them," she said.
You can share this story on social media: