Only abortion clinic in Dayton, Ohio loses operating license
Published time: 2 Dec, 2016 02:38
Edited time: 2 Dec, 2016 13:39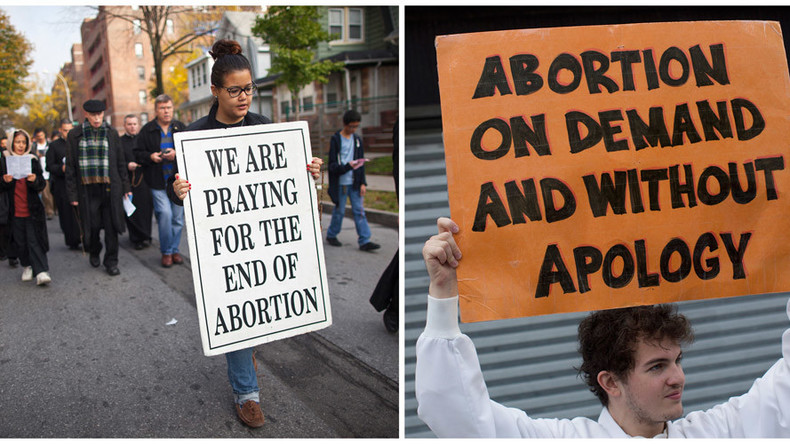 The Ohio Department of Health revoked the operating license of the last remaining abortion clinic in the city of Dayton. Pro-life advocates applaud the move, but pro-choice organizations are planning to appeal the decision.
The Women's Med Center of Dayton had its operating license revoked due to a failure to obtain a required transfer agreement with a nearby hospital for emergencies. Ohio state law prohibits public hospitals from participating in transfer agreements with abortion clinics, and the clinic did not provide enough physicians for backup care, a factor for which many pro-choice supporters blame on pro-life intimidation tactics.
One pro-life group called Created Equal has handed out flyers in physicians' neighborhoods, calling the doctors "killers" and protesting the hospitals where doctors have admitting privileges.
The closure of the Women's Med Center leaves only nine clinics remaining in the state. Supporters of the clinic blame intentionally targeted legislation for the revoked license. Jennifer Branch, the clinic's attorney, told the Associated Press that the state health department was fine with the clinic using two backup doctors for emergencies until 2015, when they demanded the number be upped to three.
"Other ob/gyn's in the community saw what was going on and didn't want to be part of it," Branch said. "Since then, they've operated with three back-up doctors and haven't had any problems."
However, weeks after the Women's Med Center found a third physician, the health department informed that they needed to have four on staff, according to Branch.
Kellie Copeland, executive director of NARAL Pro-Choice Ohio, echoed these feelings, telling the Dayton Daily News: "They've been harassing the doctors and the patients of those facilities. So hospitals know if they sign this paperwork, they're likely to be next."
However, pro-life advocates are celebrating the decision.
"We're very grateful to see that action is being taken on this facility, and we are hoping it will spare thousands of lives in Dayton in the long run," Ohio Right to Life spokeswoman Katie Franklin told the AP.
That celebration may be short lived, however. The Women's Med Center has 15 days to appeal the decision and has already announced plans to do so. State Rep. Greta Johnson (D-Akron) believes that the clinic was closed on "shaky legal ground," and said "not only is the state of Ohio acting on likely-unconstitutional laws, but in doing so it is jeopardizing the health and safety of Ohio women for political gain."