'Disaster zone': Tornadoes kill at least 5 in southeast states (PHOTOS)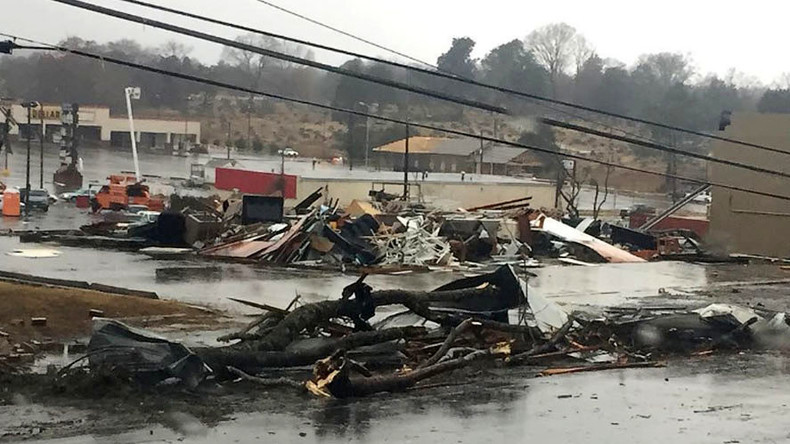 Tornadoes have ripped across Alabama and Tennessee leaving at least five people dead, more injured and a trail of destruction in what authorities are calling a "disaster zone".
Three people are reported dead in Jackson County, Alabama and two in Polk County, Tennessee. The deaths in Jackson County are reported to all be from the same home while the Polk County deaths are reported to be a husband and wife.
It's understood two more people have died in Meigs County, Tennessee, according to a local ABC reporter.
Deadly storms hit the southeast of the US late Tuesday night, causing damage to numerous properties and leaving thousands without power. Images taken in DeKalb County show a daycare center completely destroyed after a tornado hit.
The center was closed at the time but three members of a family from a nearby mobile home were injured after seeking shelter there.
The three people killed in Jackson County were also in a mobile home when the tornado hit, Chief Deputy Rocky Harnen told AP.
The town of Benton, Tennessee resembled a "disaster zone" Chief of Police Rocky King told NBC after a tornado left it without power, and debris from damaged buildings blocked roads.
Southeast Louisiana, including New Orleans, is on tornado watch until Wednesday afternoon, as well as several counties in Alabama.
The tornadoes were spurred on by storms in the area that also brought heavy rains, with several floods reported in northwestern Alabama.
Fires are also raging across Tennessee, putting extra pressure on emergency services. The town of Gatlinburg was completely evacuated after fires covering 500 acres (2 sq km) engulfed the nearby Great Smoky Mountains.
READ MORE: Shocking footage of Tennessee blaze shows scale of damage (VIDEOS, PHOTOS)
Rainfall is expected to help with the fires but strong winds are expected to help any remaining flames spread rapidly.