Obama urged to end Snowden's 'untenable exile'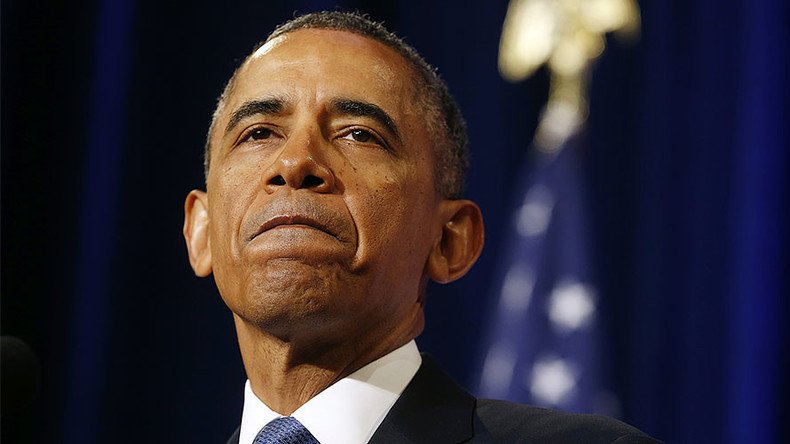 President Barack Obama has been urged to pardon NSA whistleblower Edward Snowden and end his "untenable exile" by former members of the Church Committee which carried out the congressional inquiry into the CIA's illegal activity in the 1970s.
Fifteen members wrote a strongly-argued letter to Obama and Attorney General Loretta Lynch calling on them to allow the former National Security Agency contractor, who revealed the depths of the US spying apparatus to return home, and be treated with leniency.
The letter argues Snowden's revelations "inspired" an important discussion about the legality and dangers of spying on American citizens without warrant, and led to rare bipartisan surveillance reform.
"It was Snowden who supplied journalists with evidence that our government had, for many years, been collecting information about the domestic phone calls of millions of Americans," the letter reads. "As a result, a bipartisan coalition in Congress formed to amend the Patriot Act to prohibit the practice."
While the group said there was "no question" that Snowden broke the law, his "actions were not for personal benefit, but were intended to spur reform."
It urges Obama and Lynch to negotiate "a fair and just settlement of the criminal charges against him, based on the public benefits that resulted from his disclosures."
The letter points out that Snowden also revealed the NSA's interception of international electronic communications through fiber cables, its eavesdropping on US allies and how it accesses information through companies such as Google and Yahoo.
"Untold millions of Americans' communications are swept up in these programs, where they are available for perusal by the FBI and CIA through what has become known as the 'backdoor' search loophole," it says.
The group also remind Obama that he "acknowledged that stronger controls were necessary," and said the debate "will make us stronger" in the wake of the Snowden revelations. He also "implemented the first ever reforms to afford privacy protection for foreigners from surveillance unless it is necessary to protects our national security."
The group also reminded the president that the Church Committee revealed six previous US leaders abused their secret powers, and pointed to the fact that Obama himself "absolved from liability" the officials who implemented torture and extraordinary renditions under George W Bush.
Former CIA directors David Petraeus and John Deutch, along with former National Security Adviser Sander Berger were presented as examples of leniency shown to high-ranking officials who made illegal disclosures, none of whom did so with the sole intent of raising public awareness.
It requested that claims by the NSA, CIA and Defense Department that Snowden's leaks resulted in harm be checked and "weighed against the benefits."
The Church Committee, formally known as the 'United States Senate Select Committee to Study Governmental Operations with Respect to Intelligence Activities', was set up in 1975 to investigate US intelligence agencies and their impact on Americans' rights following the Watergate scandal. Its disclosures led to bipartisan reform which made the "intelligence agencies stronger."
It uncovered abuses including the CIA's many attempts to assassinate foreign leaders and the FBI's secret COINTELPRO program, which was set up to "harass and destroy" groups the Bureau didn't like and included attempts to make Martin Luther King kill himself.
"When intelligence agencies operate in the dark, they often have gone too far in trampling on the legitimate rights of law-abiding Americans and damaging our reputation internationally," the letter reads. "We saw this repeated time and time again when serving as staff members for the U.S. Senate Select Committee."
You can share this story on social media: