ISIS claims responsibility for Ohio State car-and-knife attack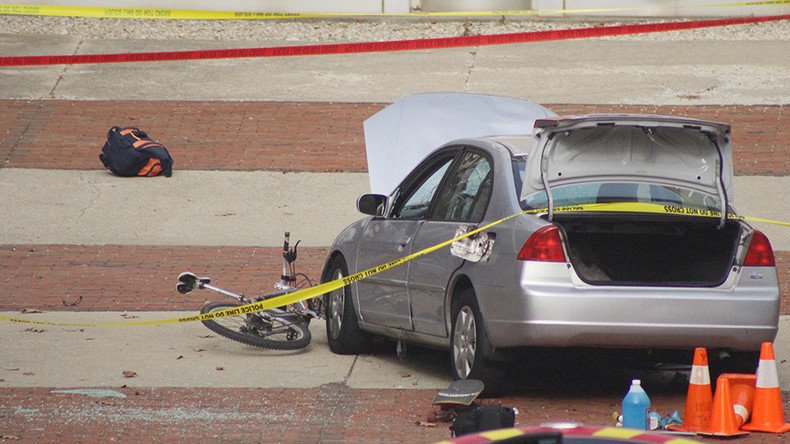 Islamic State has claimed responsibility for a car-and-knife attack at Ohio State University in Columbus that injured 11 people and left the suspect dead. The claim was made through the group's news agency.
The attack in the state of Ohio "is a soldier of the Islamic State and carried out the operation in response to appeals targeting nationals of coalition countries," a security source told AMAQ, the news agency of Islamic State (IS, formerly ISIS/ISIL).
مصدر أمني لوكالة أعماق: منفذ هجوم ولاية #أوهايو الأمريكية هو جندي للدولة الإسلامية ونفذ العملية استجابة لنداءات استهداف رعايا دول التحالف

— خادم الإخوة (@kjuvd9) November 29, 2016
The FBI and other law enforcement agencies investigating Monday morning's incident have not announced any links between the deceased suspect, identified as OSU student Abdul Razak Ali Artan, and the terrorist group in the Middle East.
Authorities reportedly found Artan's Facebook profile on Monday, where they say he posted a "declaration" that expressed grievances over attacks on Muslims.

"If you want us Muslims to stop carrying lone wolf attacks, then make peace" with IS, an anonymous law enforcement official described Artan's post as saying to AP.

"America! Stop interfering with other countries, especially the Muslim Ummah. We are not weak. We are not weak, remember that," Artan wrote, using the Arabic term for the Muslim community.
Monday's incident began when a car rammed into people outside of Watts Hall around 9:40am local time. The driver got out of the car, armed with a butcher knife and began attacking the group. A cop was on scene within a minute of the start of the attack, and shot and killed the suspect within a minute.
Artan is believed to have left moved to Pakistan from Somalia with his family in 2007. He came to the US in 2014 as a refugee, and was granted legal permanent residency. He transferred from Columbus State at the beginning of this school year.
You can share this story on social media: