Deceased Ohio State attacker identified as Somali refugee Abdul Razak Ali Artan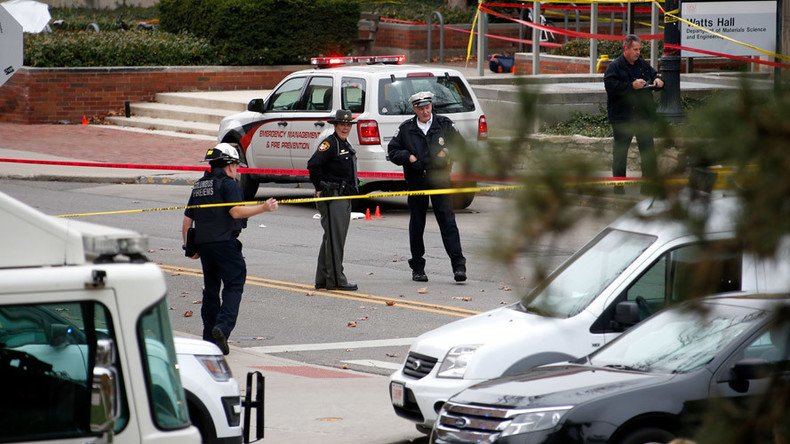 The deceased suspect in the car-and-knife attack on Ohio State University in Columbus has been identified. The college-aged man of Somali descent injured 11 when he crashed his car into a group of people then attacked them with a butcher knife.
The incident began when a car rammed into people outside of Watts Hall around 9:40am local time. The driver got out of the car, armed with a butcher knife and began attacking the group, OSU officials said in an afternoon press conference.
Officials identified the suspect as OSU student Abdul Razak Ali Artan. He was a legal permanent resident from Somalia, according to NBC News' Tom Winter.
There are conflicting reports about his age, with news outlets saying he is anywhere from 18 to 20 years old.
Authorities believe they have found Artan's Facebook profile, where they say he posted a "declaration" that expressed grievances over attacks on Muslims, ABC News reported.
A police officer, identified as Alan Horujko, was on scene within a minute of the start of the attack, and shot and killed the suspect within a minute.
"Luckily there were so many people he couldn't focus on one target," student Jacob Bowers told ABC News. "I didn't see anyone get stabbed but I saw the police officer take down the stabber. He saved lives today."
The suspect did not say anything during his attack, Bowers said, "which was almost scarier," he added.
Artan is believed to have left moved to Pakistan from Somalia with his family in 2007, NBC reported. He came to the US in 2014 as a refugee, and was granted legal permanent residency.
He transferred from Columbus State at the beginning of this school year, he told the Ohio State Lantern in August.
"I'm new here. This is my first day. This place is huge, and I don't even know where to pray," he said. "I wanted to pray in the open, but I was kind of scared with everything going on in the media. I'm a Muslim, it's not what the media portrays me to be. If people look at me, a Muslim praying, I don't know what they're going to think, what's going to happen."
"But, I don't blame them," Artan continued. "It's the media that puts that picture in their heads so they're going to have it and it, it's going to make them feel uncomfortable. I was kind of scared right now. But I just did it. I relied on God. I went over to the corner and just prayed."
His motive remains unknown, but OSU officials said that the attack was clearly planned in advance.
"This was done on purpose," OSU Police Chief Craig Stone told reporters.
Horujko, 28, has been with the OSU Police Department for almost two years, OSU Director for Public Safety Monica Moll said.
You can share this story on social media: