Post-election hotcakes: Gun sales surge on Black Friday
Published time: 29 Nov, 2016 19:01
Edited time: 30 Nov, 2016 14:20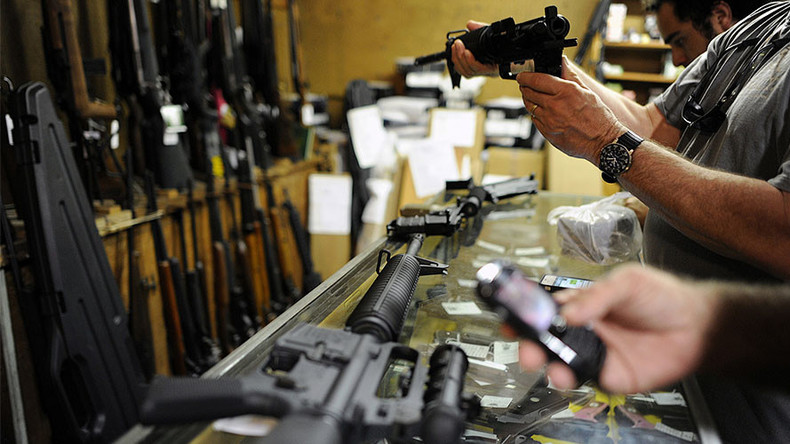 About 400 more people submitted background check requests over gun purchases on Black Friday, one of the biggest retail days in the US. Retailers report more sales among minorities and more people concerned over gun rules.
This year the National Instant Criminal Background Check System processed 185,713 transactions the day after Thanksgiving, FBI spokesman Stephen Fischer told Fortune. The purchases break last year's record of 185,345, marking an increase of 2 percent.
There is no national database for gun purchases, the only data available comes from the number of background checks the FBI conducts. In October, the agency saw 2.3 million background check requests for guns, an all-time record, and the 18th month in a row to set a new high.
During the presidential election campaign, gun rights were a polarizing topic among candidates.
The Clinton campaign called for repealing gun industry liability protections, implementing comprehensive background checks, and closing the "Charleston loophole," the law allowing federally licensed dealers to sell firearms after a three-day waiting period for a background check, regardless of whether they received the results of the background check.
While Republican presidential candidate, now President-elect, Donald Trump courted the favor of Second Amendment supporters and was endorsed by the National Rifle Association. He suggested dealing with mental health issues rather than taking away guns. He also opposed gun-free zones.
Green Party candidate Jill Stein called for an assault weapons ban and regulations to keep guns out of the hands of criminals and individuals with mental illness. She connected gun violence with economic disparity and believed the NRA should stay out of politics because it fails to represent the interests of ordinary gun owners.
Libertarian candidate Gary Johnson rejected the idea that restricting gun sales makes us safer.
When Trump won the election, sales forecasters were predicting a slump in gun sales. Even the FBI said a week before the number of checks would decrease more than 5,000 over last year.
Gun sales are usually high on Black Friday because of big discounts.
A New Jersey gun dealer told reporters he was moving excess inventory which he had stockpiled for eight to 12 months in anticipation of a Clinton win, and the likelihood of more gun regulations, and was offering deep discounts on gun, ammunition and accessories.
Background checks take place any time someone purchases a gun from a federally licensed dealer. Gun buyers are required to fill out a 16-answer form about their background including drug use and criminal history. The dealer submits the form to the FBI, which has three business days to process the form and can decide whether to authorize the purchase.
Gun store owners told NBC since Donald Trump won the election, they are seeing up to four times as many black and minority customers – and black gun groups are reporting double the normal number of attendees at their meetings since his win.
Since November 8, there have been almost 900 instances of hate crimes already reported to the Southern Poverty Law Center with Swastikas spray-painted on churches, playgrounds and college walls, and LGBT hotlines have reported a surge in calls from people reporting harassment.