'We got some Hillary b*tches': Trump supporter banned from Delta Airlines over rant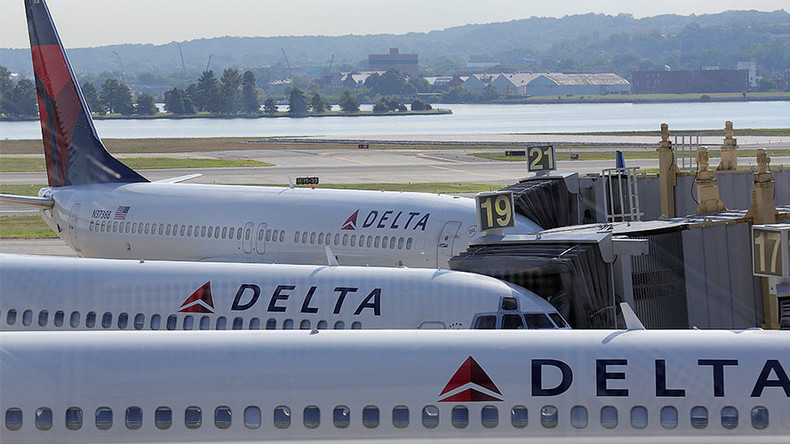 A disruptive passenger who went on a rant about Donald Trump on his flight from Atlanta to Allentown, Pennsylvania, has been banned for life from flying with Delta Airlines.
The move comes after the airline was criticized for not taking action against the individual who was filmed shouting at passengers: "Donald Trump, baby." He then clapped his hands, yelling: "We got some Hillary b*tches on here? Come on, baby. Trump!"
The video, which was uploaded to Facebook by Emma Baum, has been viewed more than 2.5 million times and many social media users pointed out that, despite the man's abusive behavior, he was still allowed to stay on the flight – a privilege not granted to Sikh, Muslim, African-American and other ethnicities who were removed from planes over "safety concerns" in the past.
If a brown person stood up and bellowed on a plane like this, he'd be kicked off, but that's none of my business. (Kermit tea meme) https://t.co/bKSgHRsn5O

— Seth MacFarlane (@SethMacFarlane) November 25, 2016
Commenting on the incident in a memo to Delta staff on Monday, the airline's Chief Executive Officer Ed Bastian said: "This individual displayed behavior that was loud, rude and disrespectful to his fellow customers."
Bastian acknowledged that if the staff "had witnessed firsthand what was shown in the video, there is no question they would have removed him from the aircraft."
"He will never again be allowed on a Delta plane," Bastian added. "The heightened tension in our society means that now more than ever we must require civility on our planes and in our facilities."
The move comes after another Trump supporter accused black employees in a Chicago store of discrimination and also went on a racist tirade against staff over paying for a $1 reusable bag.
Another customer filmed the incident, where the woman was seen to be having a meltdown.
"And I voted for Trump so there!" she shouted. "You want to kick me out because of that? And look who won."
Hate crimes have risen drastically since Donald Trump won the US elections. More than 400 incidents of harassment and intimidation were recorded by the Southern Poverty Law Center between November 9 and November 14 alone.
READ MORE: 'Trump will cleanse America': California mosques sent letters threatening genocide against Muslims