Suspect detained in New Mexico 'suspicious devices & vandalism' spree – FBI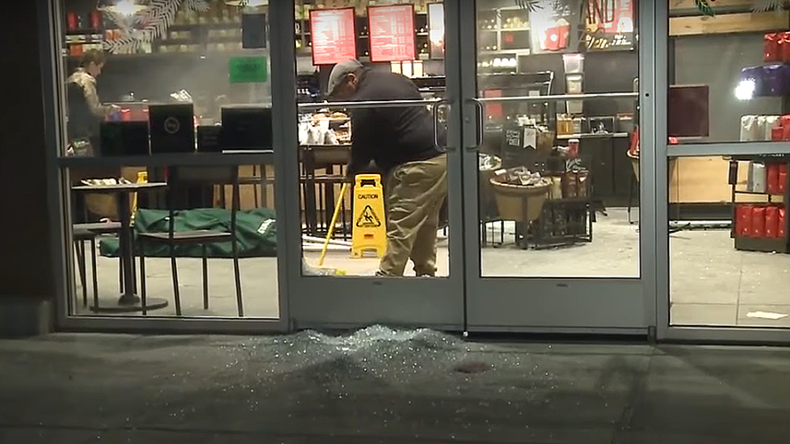 The FBI is questioning a person who was reportedly "caught in the act" following a series of incidents in Albuquerque, New Mexico, which involved vandalism, fires and several "suspicious devices" planted at a local Starbucks and other shops.
No charges were filed after Albuquerque police took a person into custody Saturday and turned them over to the FBI, the bureau said in a statement.
Person in custody in connection with #ABQ suspicious devices case. If you have info: Call 1-800-CALL-FBI. #FBI.

— FBI Albuquerque (@FBIAlbuquerque) November 26, 2016
Previously the FBI said that three Starbucks coffee shops were attacked after midnight on November 25. Suspicious devices were found at the stated locations after the coffee shops had closed. One of the devices exploded, causing minimal damage, according to the FBI.
"Suspicious devices were placed at three closed Starbucks coffee shops, and one caused minimal damage. Nobody was injured," the FBI said.

The FBI statement added that federal and local authorities are continuing the investigation into the Starbucks cases.
Following the attack on Starbucks locations, more stores were attacked in the city – an Old Navy on San Mateo and Cutler Ave and a Barnes & Noble at Coronado Mall.
Fire crews were dispatched to Cutler Avenue, where smoke and flames were seen coming from an Old Navy store at around 1:15am Saturday, local station KRQE reported. No injuries were reported as firefighters worked to prevent the flames from spreading.
READ MORE: Vandals caught on VIDEO destroying iconic Oregon sandstone formation
Both Old Navy and Barnes & Noble will not be open for business for a while, according to the fire department because of the damages suffered.
Old Navy's adjacent businesses, Sally's Beauty Supply and Sketchers, will not be open due to slight smoke damage, but should reopen in the next day or so, according to AFD. However, the rest of Coronado Mall will be open to shoppers.
READ MORE: Wave of racist incidents spreads fear across US after Trump victory
The Fire Department said that the causes of the fires early Saturday morning at Barnes & Noble and Old Navy outlets located at separate shopping centers were under investigation.