Wave of racist incidents spreads fear across US after Trump victory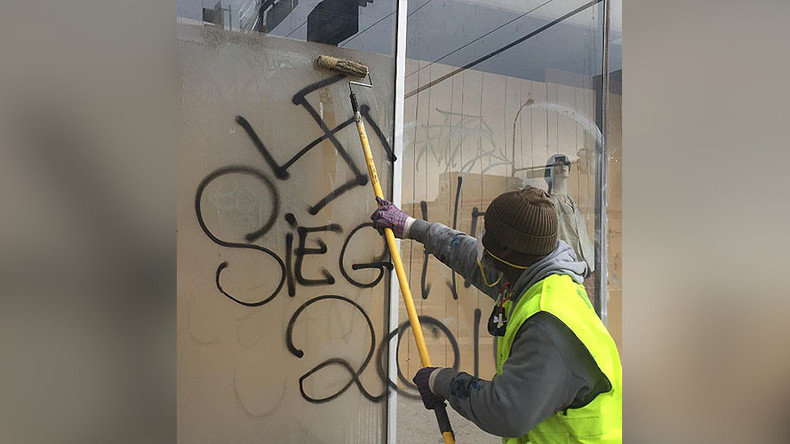 Reports of racist incidents have risen in the wake of Donald Trump's election win - including a robbery on a hijab-wearing student by men allegedly invoking the new president-elect.
Many of the incidents have been posted on social media sites, with a large number reportedly happening at educational institutions across the country.
READ MORE: 'Not my president!' Anti-Trump protesters take to streets nationwide, dozens arrested (VIDEOS)
A Muslim woman in California wearing her hijab was robbed of her car Wednesday by two men who made comments about Trump and the Muslim community at San Diego University, according to a police statement.
Police are investigating the incident as a hate crime, robbery and vehicle theft.
Lafayette Police Department were investigating a separate incident at the University of Louisiana at Lafayette where a female student claimed she was beaten, robbed and had her hijab ripped off by two men. She alleged one of them was wearing a white "Trump" hat.
Police have now confirmed the woman fabricated the story. Lafayette Police spokesman Officer Karl Ratcliff said the woman admitted to making up the story after police began to question her about key details, according to The Advocate. Police say the woman offered no explanation for her lying but now may face charges for filing a false police report.
Meanwhile, students at Wellesley College, outside Boston, Massachusetts, posted on Facebook that two people drove around campus Wednesday jeering at African-American students and screaming "Trump" and "Make America Great Again."
High schools in states like Utah, Minnesota and Pennsylvania have also reported an increase in racial bullying and vandalism.
In Philadelphia, Pennsylvania, police released footage of a suspect who spray painted three vehicles and one house with racially charged messages including "Trump Rules,"according to the Philadelphia Voice
Police in Philadelphia also responded to two more incidents of vandalism where swastikas and the German phrase "Sieg Heil 2016" ‒ which translates as "Hail Victory" ‒ were spray painted onto properties, along with the word "Trump."
People have also shared personal experiences of racist abuse and bigotry through social media platforms.
Great way to start my morning, shoved when stepping out of my car and told by another person that I won't be here for long. Awesome

— Hareem Mannan (@okhareem) November 9, 2016
READ MORE: Shocked & disgusted': UK police chief says hate crime reports jumped 500% since Brexit vote
There has also been reports of a spike in transgender suicides following Trump's victory. Guardian journalist Zach Stafford initially reported at least eight suicides but later updated it as even higher, citing a statement from transgender support organisation GenderInc.
Trans support hotlines also reported a spike in calls on election night.
You can share this story on social media: